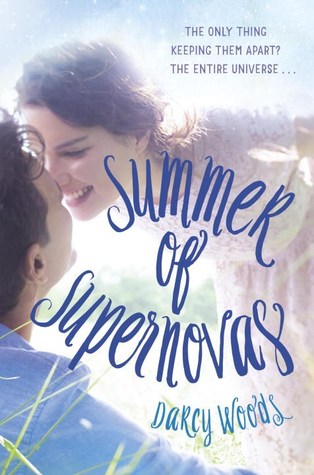 Fans of Jennifer E. Smith and Jenny Han will fall in love with this heartfelt and humor-laced debut following one girl's race to find the guy of her cosmic dreams.
When zodiac-obsessed teen Wilamena Carlisle discovers a planetary alignment that won't repeat for a decade, she's forced to tackle her greatest astrological fear: The Fifth House—relationships and love.
But when Wil falls for a sensitive guitar player hailing from the wrong side of the astrology chart, she must decide whether a cosmically doomed love is worth rejecting her dead mother's legacy and the very system she's faithfully followed through a lifetime of unfailing belief.
Darcy Woods
has held an eclectic mix of professions—from refueling helicopters for the US Army to recharging bodies and spirits at a spa—but her most beloved career is being an author. She is a happily-ever-after addict and finds all things metaphysical endlessly fascinating. She lives in Michigan with her husband and cat. The Golden Heart® award–winning
Summer of Supernovas
is her first novel. You can follow Darcy on Twitter at @woodswrite.
I really love will's attitude. The way she was told things for rules and she listens to EVERY word so she can find a loophole made me laugh so hard.
This book has me wanting to say so much! I loved falling in love with the characters of this book right along with them. Will is such a great character with flaws and ambitions and the walker boys are both so swoony! I could totally see this turning into a series. I would love to see the other walker boy ending up with someone. I won't go into names as I don't want to give anything away.
I really just don't know what to say about this book. It made me giggle and laugh so many times. It's one that once you finish you will want to start it all over again.
Quotes
Some of these will not make ANY sense since they are taken out of content. But I hope they make you laugh enough that you want to read this book!
'Butts aren't meant to be seen moving at this velocity'
'And here I am, traveling at the speed of ass'
'Drear God, please don't let me die. I promise to be a better person and be more efficient with my laundry and .....and to never wear these devil's panties again'
'If this is Heaven I want my money back'
'For longer than the stars will shine above'
'And I want my tomorrows and the all the promises they hold'
'He rocks to the beat, a euphoric almost-smile touching his lips. And I want to go that place. Blindly follow wherever it is he's gone. Even if just for one solitary song.'
'Oh my God, when did I start looking at his butt? And since when am I a butt ogler?'
'Well the drool, and the fact that you were undressing the pastry box with your eyes'
'Not with his arms wrapped around me like night on a star'
"All opinions are 100% honest and my own."
Who wants to win a bookmark?
All you need to do is comment with your Sign!
A few lucky winners will win!
Disclaimer: Thanks to Goodreads and Amazon for the book cover, about the book, and author information. Buying via these above links allows my site to get a % of the sale at no cost to you. This money gets used to buy items for giveaways. In accordance with FTC guidelines regarding endorsements and testimonials for bloggers, I would like my readers to know that many of the books I review are provided to me for free by the publisher or author of the book in exchange for an honest review. I am in no way compensated for any reviews on this site. All donations are to help keep this site running via costs from shipping, .com charges, and other giveaways.
Comments are DELICIOUS! and now that were using this new format for comments the TOP 3 Commenters will all win bookish goodies each month! So that is just one more reason to comment! This is open to everyone! So get commenting!
Don't forget to check out our Facebook, Twitter, Instagram, and Pinterest!
@CrossroadReview