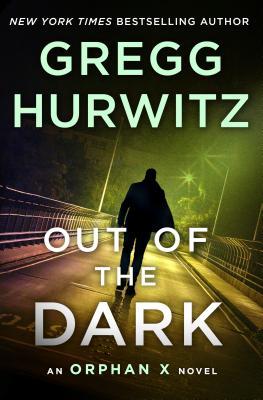 Series:
(Orphan X #4)
Author:

Gregg Hurwitz
Genres: Adult Fiction, Mystery, Thriller
Hardcover

:
400 pages
Published:
January 29th 2019
Publisher:
Minotaur Books
Add to Goodreads
Buy from Amazon
Synopsis:
When darkness closes in―he's your last, best hope. Evan Smoak returns in Gregg Hurwitz's #1 international bestselling Orphan X series.

Taken from a group home at age twelve, Evan Smoak was raised and trained as part of the Orphan Program, an off-the-books operation designed to create deniable intelligence assets―i.e. assassins. Evan was Orphan X. He broke with the Program, using everything he learned to disappear and reinvent himself as the Nowhere Man, a man who helps the truly desperate when no one else can. But now Evan's past in the Orphan Program is reaching out to him.

Someone at the very highest level of government has been trying to eliminate every trace of the Orphan Program by killing all the remaining Orphans and their trainers. After Evan's mentor and the only father he ever knew was killed, he decided to strike back. His target is the man who started the program and who is now the most heavily guarded person in the world: the President of the United States.

But President Bennett knows that Orphan X is after him and, using weapons of his own, he's decided to counter-attack. Bennett activates the one man who has the skills and experience to track down and take out Orphan X―the first recruit of the program, Orphan A.

With Evan devoting all his skills, resources, and intelligence to find a way through the layers of security that surround the President, suddenly he also has to protect himself against the deadliest of opponents. It's Orphan vs. Orphan with the future of the country―even the world―on the line.
About the Author:
GREGG HURWITZ is the New York Times bestselling author of thrillers, including Hellbent. Critically acclaimed, his novels have graced top ten lists and have been published in 22 languages. He is also a New York Times bestselling comic book writer, having penned stories for Marvel and DC. Additionally, he's written screenplays for or sold spec scripts to many of the major studios, and written, developed, and produced television for various networks. Gregg resides in Los Angeles.
"Nobody walks the line between blistering action and searing character development better than Hurwitz. And that combination, more than anything, makes
Out of the Dark
a book you'll savor well into the night." ―
The Providence Journal
"Read this book. You'll thank me later." ―
David Baldacci
"Hurwitz delivers with a stunning, action-packed plot that will leave readers breathless with anticipation and begging for more. When it's all said and done,
this
is the book Hurwitz will be remembered for." ―
CrimeReads
"A complicated, swift-paced plot involving numerous twists plus a surprise ending―the essentials that make up a great thriller...Plan to stay up all night reading this one." ―
Library Journal

(starred review)
"Explosive... Hurwitz is at the top of this game."
―

Publishers Weekly

(starred review)
"
Out of the Dark
is a stunner. I thought Gregg Hurwitz couldn't get any better, but his latest Orphan X novel proved me wrong. Shut the blinds, turn off your phone and TV, and get some sleep now, because once you start this book you won't want to stop." ―
Meg Gardiner, author of

UNSUB

and

Into the Black Nowhere
"A stunning, action-packed plot that will leave readers breathless with anticipation and begging for more."
―

The Real Book Spy
"The plotting is clever, the action is nearly constant and usually over-the-top, and X has something resembling a moral core. Bad guys get what bad guys deserve... Hurwitz fans will certainly enjoy this latest entry in the series."
―

Kirkus Reviews
"Evan Smoak roars back with a vengeance in the fourth Orphan X thriller...this installment is as tightly plotted, efficiently written, and, yes, as curiously plausible as its predecessors. If Jack Reacher fans haven't checked out Smoak yet, they're missing a sure bet."
–

Booklist
My Review: After finally reading the first three books to this one. Not much changed in my perspective of the story. I did understand the Nowhere Man a little more but other than that my thoughts on this book below didn't change. It was a very good book and I can not wait for the next one in the series!
This one was still a very good read but I think it would have been even better if I would have read the first three. For the simple fact that I cheated and looked up what the other books were about. So yes I can totally say with all the marbles that you should not read this without reading the others first.
That being said this was still one killer title. I really think that this is a book of our time as this time Evan has to kill the
President of the United States which for most of us would be a horrible thing to do. But with the crap we are going through right now, I couldn't help but thinking Evan was taking out our current President. I know that most likely makes me a horrible person because murder is never the answer but that is just what kept coming to me during this one.
The other side of this story is where Evan as the Nowhereman tries to help out people in trouble. I really enjoyed how this had two stories in it and not just one. It really made you feel for Evan and what he was going through. Doing the right thing vs. not.
This one kept me on my toes and I could not put it down. I was reading another title during this one and I have to say that I kept putting that one down so I could read this!! It was just that good.
a Rafflecopter giveaway
Did you know that comments are DELICIOUS? Well they are and if you comment on any of these posts you could win some awesome goodies!
Disclaimer:
"All opinions are 100% honest and my own."
Thanks to Goodreads and Amazon for the book cover, about the book, and author information. Buying via these links allows my site to get a % of the sale at no cost to you.

FTC Guidelines: In accordance with FTC guidelines regarding endorsements and testimonials for bloggers, I would like my readers to know that many of the books I review are provided to me for free by the publisher or author of the book in exchange for an honest review. If am compensated for any reviews on this site I will state that post has been sponsored.