This one comes out in just one week or so but man I totally can't wait for it!! It has gotten amazing reviews with a ton of different places.
* "A must-read for lovers of fantasy." --
Kirkus Reviews
, starred review
What book can't you wait for this month? Let us know in the comments below!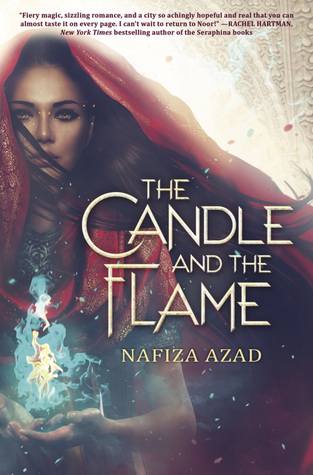 Synopsis:
Fatima lives in the city of Noor, a thriving stop along the Silk Road. There the music of myriad languages fills the air, and people of all faiths weave their lives together.
However, the city bears scars of its recent past, when the chaotic tribe of Shayateen djinn slaughtered its entire population -- except for Fatima and two other humans.
Now ruled by a new maharajah, Noor is protected from the Shayateen by the Ifrit, djinn of order and reason, and by their commander, Zulfikar.
But when one of the most potent of the Ifrit dies, Fatima is changed in ways she cannot fathom, ways that scare even those who love her.
Oud in hand, Fatima is drawn into the intrigues of the maharajah and his sister, the affairs of Zulfikar and the djinn, and the dangers of a magical battlefield.
Nafiza Azad weaves an immersive tale of magic and the importance of names; fiercely independent women; and, perhaps most importantly, the work for harmony within a city of a thousand cultures and cadences.
Add to Goodreads |
Buy from Amazon
About the Author:
Nafiza Azad was born in Fiji and spent the first seventeen years of her life as a self-styled Pacific Islander. Now she identifies as an Indo-Fijian Muslim Canadian, which means she is often navigating multiple identities. Nafiza has a love for languages and currently speaks four. She holds a Master of Arts degree in Children's Literature from the University of British Columbia and co-runs The Book Wars (thebookwars.ca), a website dedicated to all things children's literature. Nafiza currently lives in British Columbia with her family.
Fatima remembers the package. She removes it from her messenger bag and holds it out to Firdaus. "The merchant delivered this today. It's a book."
Firdaus eagerly takes the package. "I've been waiting for a volume of poetry written by an obscure Kmemu poet."
Firdaus rips open the brown paper wrapped around the book and makes a sound of pleasure when he discovers that the book is indeed the volume he was seeking. He flips open the book, running his fingers through the text. Fatima watches him, consoled by the pleasure he takes in the written word. He suddenly, unexpectedly, goes still, and the old Ifrit's face empties of expression.
"What is it, baba?" Fatima moves closer to Firdaus. Firdaus lowers the book, and Fatima sees a smudge of black on the edge of the paper. She watches that viscous blackness slither from the paper onto Firdaus's hand before being absorbed through his skin.
Firdaus's gold eyes flash black, and Fatima staggers back a step.
"The taint," Firdaus says through clenched teeth. Black veins appear on his skin and spread like the vines of a grape plant. Fatima watches helplessly.
"What do I do, baba? Who do I call?"
Firdaus's skin is sallow, and he is sweating profusely. He grips the edge of his desk tightly, keeping himself upright. The book has fallen unnoticed to the floor. "Listen, ya binti, listen." Fatima nods frantically.
"You are a child of flesh and blood, and I am a being of fire and bone. Were I merciful, I would bid you run and end this tale here. But I am Ifrit and my stories are eternal even though I am not." Firdaus extends his trembling right hand to Fatima. "In return for the kindness I have shown you, will you become the ink that writes my tale?"
There never was a choice.
Fatima reaches out and grabs his right hand with both of hers.
Did you know that comments are DELICIOUS? Well they are and if you comment on any of these posts you could win some awesome goodies!
Disclaimer:
"All opinions are 100% honest and my own."
Thanks to Goodreads and Amazon for the book cover, about the book, and author information. Buying via these links allows my site to get a % of the sale at no cost to you.

FTC Guidelines: In accordance with FTC guidelines regarding endorsements and testimonials for bloggers, I would like my readers to know that many of the books I review are provided to me for free by the publisher or author of the book in exchange for an honest review. If am compensated for any reviews on this site I will state that post has been sponsored.