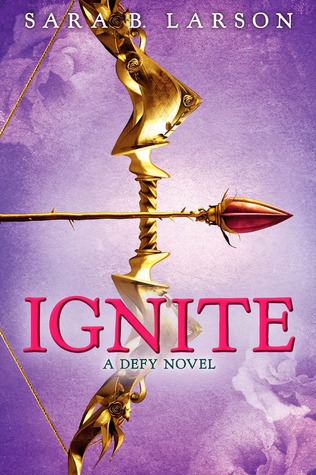 Murder, abductions, and forbidden romance abound in this thrilling sequel to Sara B. Larson's acclaimed YA debut, DEFY.
Alexa remains by the newly crowned King Damian's side as his guard, ever committed to helping him rebuild Antion and reclaim the hope of Antion's people, despite continuing to harbor a secret love for him. However, when another threat to Damian and his kingdom emerges, and blame is cast on their newly forged allies from Blevon, Alexa knows things are not what they seem. With the fate of her nation hanging in the balance once again, will Alexa be able to protect her king and uncover the true enemy -- before it's too late?
About the Author
Discover books, learn about writers, read author blogs, and more.
With a thicker plot and a fast paced story this book two was better than book one! I can't wait to get my finished copy!
Read Read Read as you won't put this one down!
"All opinions are 100% honest and my own."



Amazon
a Rafflecopter giveaway
Disclaimer: Thanks to Goodreads and Amazon for the book cover, about the book, and author information. If you can not see the link above you will need to turn off your spam blocker. Buying via these above links allows my site to get a % of the sale at no cost to you. This money gets used to buy items for giveaways.
Love doing your nails? Well find a new way to do it without all the smell and fuss! Jamberry nail wraps are the way to go! They are vinyl wraps that no dry time and are sold for $15 a sheet that will get you 2 manicures and 2 pedicures! And you can even buy them Buy 3 Get 1 Free!
http://crossroads.jamberrynails.net
The best part is if you buy from me I will send you a loyalty card. And when you fill it up you get free products! Want more for free? Well host a party! Its free and It can even be done online!
http://crossroads.jamberrynails.net/host/
Right now for my bookish followers I'm offering anyone who buys any Buy 3 Get 1 Free!
Gets to choose 2 books via my box!
https://www.facebook.com/CrossroadReview