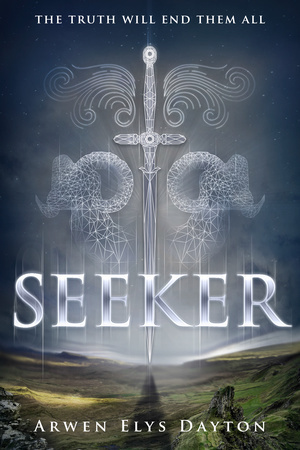 For readers of
A Game of Thrones
and
The Hunger Games
comes an epic new series.
The night Quin Kincaid takes her Oath, she will become what she has trained to be her entire life. She will become a Seeker. This is her legacy, and it is an honor. As a Seeker, Quin will fight beside her two closest companions, Shinobu and John, to protect the weak and the wronged. Together they will stand for light in a shadowy world. And she'll be with the boy she loves--who's also her best friend.
But the night Quin takes her Oath, everything changes. Being a Seeker is not what she thought. Her family is not what she thought. Even the boy she loves is not who she thought.
And now it's too late to walk away.
About the Author
Arwen Elys Dayton spends months doing research for her stories. Her explorations have taken her around the world to places like the Great Pyramid at Giza, Hong Kong and its many islands, and lots of ruined castles in Scotland.
Arwen lives with her husband and their three children on West Coast of the United States. You can visit her at arwendayton.com and follow @arwenelysdayton on Twitter and Instagram.
I was really hoping for something a kin to The Seeker series that is all wizards etc. And then I seen that this was supposed to be for fans of The hunger games and The game of thrones. So I jumped and grabbed it and started reading. Well what I found was a book full of nearly no world building, insta-love that was horribly done, and little to no information about WHAT a Seeker really is or does. Because, right now all I can see is that Quin goes out on her first mission, blacks out, then wakes up covered in blood, guts, and gore. After that it seems that she is no better than a hired hit man or
mercenary.
This book lacked the proper details for mythology and back story. So much that it really is full of holes.
Go Into This One Knowing
Needs redone in my opinion But if you win the ARC I hope you have a better time with it then I did. Use that imagination to fill those gaps.
"All opinions are 100% honest and my own."


a Rafflecopter giveaway
Disclaimer: Thanks to Goodreads and Amazon for the book cover, about the book, and author information. If you can not see the link above you will need to turn off your spam blocker. Buying via these above links allows my site to get a % of the sale at no cost to you. This money gets used to buy items for giveaways.
Love doing your nails? Well find a new way to do it without all the smell and fuss! Jamberry nail wraps are the way to go! They are vinyl wraps that no dry time and are sold for $15 a sheet that will get you 2 manicures and 2 pedicures! And you can even buy them Buy 3 Get 1 Free!
http://crossroads.jamberrynails.net
The best part is if you buy from me I will send you a loyalty card. And when you fill it up you get free products! Want more for free? Well host a party! Its free and It can even be done online!
http://crossroads.jamberrynails.net/host/
https://www.facebook.com/CrossroadReview