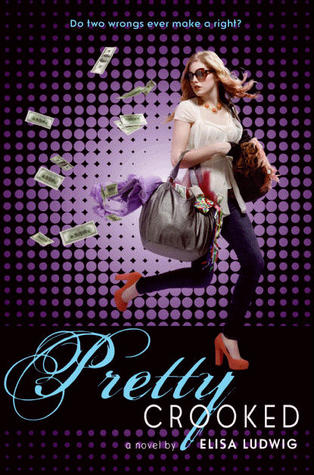 Willa's secret plan seems all too simple: take from the rich kids at Valley Prep and give to the poor ones.
Yet Willa's turn as Robin Hood at her ultra-exclusive high school is anything but. Bilking her "friends"-known to everyone as the Glitterati-without them suspecting a thing, is far from easy. Learning how to pick pockets and break into lockers is as difficult as she'd thought it'd be. Delivering care packages to the scholarship girls, who are ostracized just for being from the "wrong" side of town, is way more fun than she'd expected.
The complication Willa didn't expect, though, is Aidan Murphy, Valley Prep's most notorious (and gorgeous) ace-degenerate. His mere existence is distracting Willa from what matters most to her-evening the social playing field between the have and have-nots. There's no time for crushes and flirting with boys, especially conceited and obnoxious trust-funders like Aidan.
But when the cops start investigating the string of burglaries at Valley Prep and the Glitterati begin to seek revenge, could he wind up being the person that Willa trusts most?
About the Author
Biography
Ok so this one was pretty good. There were a issues I had was that this is deff. one of those books that is written like a series. This book can not really stand on its own. It left me with more questions than answers. Other than that it really made me what to read the next book. I really liked how the MC Willa was very blind to how the others around her were treating the less unfortunate kids. It really made me believe that she was under a glamor of what this new life was going to do for her.
The story is pretty slow to begin with which was another issue I had. The book really didnt start going until around page. 150 something. Then it really got good. The first 150 pages or so act like a bridge to get you into the story of how Willa went from moving all over the place to moving to what she first thinks is paradise.
This really was a good retelling of Robin Hood. Although a little slow and not compeletly fullfilling It really made me want to finish out the story! I really wanted to know what was going to happen.
In the end it was a good retelling of Robin Hood as well as a great story about all actions have consequences.
Go Into This One Knowing
no love triangle, cliffhanger, ending with questions unanswered
"All opinions are 100% honest and my own."


a Rafflecopter giveaway
Disclaimer: Thanks to Goodreads and Amazon for the book cover, about the book, and author information. If you can not see the link above you will need to turn off your spam blocker. Buying via these above links allows my site to get a % of the sale at no cost to you. This money gets used to buy items for giveaways.
https://www.facebook.com/CrossroadReview