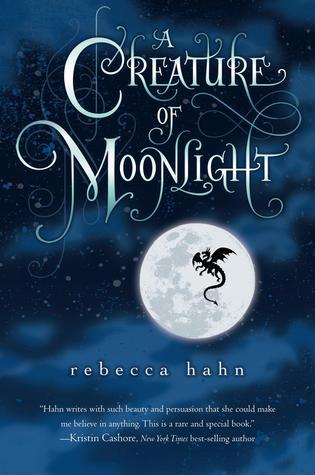 A stunning debut novel about a girl who is half dragon, half human, and wholly herself.

As the only heir to the throne, Marni should have been surrounded by wealth and privilege, not living in exile-but now the time has come when she must choose between claiming her birthright as princess of a realm whose king wants her dead, and life with the father she has never known: a wild dragon who is sending his magical woods to capture her.

Fans of Bitterblue and Seraphina will be captured by A Creature of Moonlight, with its richly layered storytelling and the powerful choices its strong heroine must make.
About the Author
Rebecca Hahn grew up in Iowa, attended college in Minnesota, and soon afterward moved to New York City, where she worked as an editorial assistant and wrote A Creature of Moonlight on the side. She now lives in Minneapolis, with the winter cold, the wide sky, and many whispering trees.
From School Library Journal
Gr 9 Up—Marni lives in a shack at the edge of the woods with her Gramps, where she tends flowers, as she's done for most of her life. Yet change is afoot. As she's come of age, more and more male visitors have come to sit on the porch with Gramps while Marni lingers in the shadows. Perhaps even more disturbingly, the woods have begun creeping in inch by inch into the surrounding villages—but notably not around their own hut. If there was ever a time Marni should ignore the siren call of the voices in the woods, it is now, but she continues to escape there. It was these woods, after all, that had lured her princess mother away from the castle. Her mother was not the only girl lured by the voices, but she was the only to return—carrying the illegitimate "Dragon's" daughter and ultimately ending her own life, thereby sentencing Marni and her Gramps to a life of exile. Unexpectedly, Marni is thrust into life at court, and she must fight desperately to keep her independence while unraveling the mysteries of the encroaching woods and her birth. This book's greatest strength lies in the vivid woodland scenes and the rich detail that describes the mystical pieces of Marni's tale. The plot, however, plods along a bit, and, in the end, readers might wish that a little more had lurked beneath the surface. Fantasy fans who enjoy reveling more in the vision of a fantastical land and its creatures than an intricate and fast-paced plot will find much to love here.—Jill Heritage Maza, Montclair Kimberley Academy, Montclair, NJ
Marni is the sole heir to a kingdom surrounded by a dangerous wood ruled by a powerful dragon and full of fantastic creatures, alluring magic, and trees whose seductive song lures young girls to abandon village life and run away to the forest. But instead of taking her rightful place on the throne, Marni is doomed to live in exile: her father is the dragon, and her mother was murdered for her transgression. When Marni's grandfather—her sole protector—dies, and she's sent to the court of her uncle, the king, she gets a taste of what a purely human life would be like. She can't resist the call of the forest though, and soon, despite diligently planning to avenge her mother's death, she seeks out her father in the woods. Told in a languorous, breathy first-person narrative, Hahn's debut novel follows tenacious Marni as she tries to find a home between two vastly different worlds. Patient fantasy fans will appreciate this lyrical, character-driven story about a unique girl learning to find her place in an inhospitable world. Grades 8-10. --Sarah Hunter





Disclaimer: Thanks to Goodreads and Amazon for the book cover, about the book, and author information. If you can not see the link above you will need to turn off your spam blocker. Buying via these above links allows my site to get a % of the sale at no cost to you. This money gets used to buy items for giveaways.
https://www.facebook.com/CrossroadReview