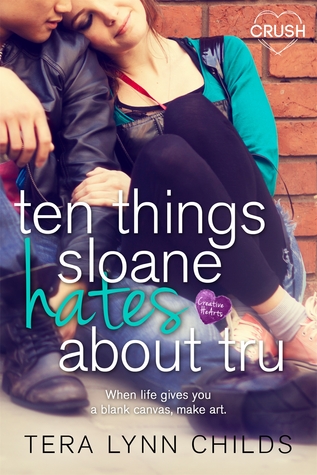 When life gives you a blank canvas, make art.
Sloane Whitaker hates everything about moving to Texas. She hates leaving behind her friends and half her family in New York, starting over senior year at Austin's NextGen Academy, and having to say she lives in Texas. Most of all, she hates that it's all her fault. If she wants to earn her way back to the Big Apple, she has to prove she can still be the perfect daughter.
Which means no vandalism art, no trouble at school, and absolutely no Tru Dorsey, her serial screw-up neighbor, who loves nothing more than pushing her buttons.
But from the moment he vaults onto the roof outside her bedroom, there is something about him that makes her want to break every rule. Suddenly it' s not the ten things she hates about Tru that are at the top of her list. It's the ten reasons she doesn't want to be without him.
About the Author
Tera Lynn Childs is the RITA-award-winning author of the mythology-based Oh.My. Gods. and Goddess Boot Camp, the mermaid tales Forgive My Fins, Fins Are Forever and Just For Fins, and a kick-butt trilogy about monster-hunting descendants of Medusa that includes Sweet Venom, Sweet Shadows, and Sweet Legacy. She has published two e-novellas, Goddess In Time and Pretty In Pearls, and self-published her City Chicks sweet chick lit series. Tera lives nowhere in particular and spends her time writing wherever she can find a comfy chair and a steady stream of caffeinated beverages.
This was a great contemporary with a hint romance and a lot of mystery! Its about a girl who has to leave New York is the end of the world. But what she finds turns her world upside down. This was a cute little story, I loved the mystery centered around the reason on why Sloane had to leave New York. We get no hints or anything and that was just perfect. I love the little touch of romance that this book had but it wasn't the sole focus of the book which just made it better.
I have to say that Tera Lynn Childs so knows how to write! This is def. one I want on my shelves.
Go Into This One Knowing
Ending was predictable but ok.
"All opinions are 100% honest and my own."
Disclaimer: Thanks to Goodreads and Amazon for the book cover, about the book, and author information. If you can not see the link above you will need to turn off your spam blocker. Buying via these above links allows my site to get a % of the sale at no cost to you. This money gets used to buy items for giveaways.
https://www.facebook.com/CrossroadReview