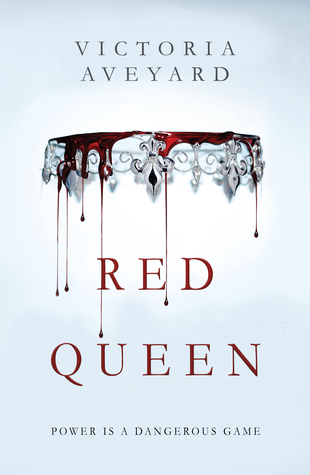 The poverty stricken Reds are commoners, living under the rule of the Silvers, elite warriors with god-like powers.

To Mare Barrow, a 17-year-old Red girl from The Stilts, it looks like nothing will ever change.

Mare finds herself working in the Silver Palace, at the centre of
those she hates the most. She quickly discovers that, despite her red blood, she possesses a deadly power of her own. One that threatens to destroy Silver control.

But power is a dangerous game. And in this world divided by blood, who will win?
About the Author
Biography
Amazing!!!!
I really loved this book. Finally got to it and well I finished it in like 3 hours. OMG what can I say about this book..............Im at a loss for words.
This book has everything. Two different people humans that bleed red and then the Silvers who of course bleed silver. For me it feels like its humans vs. Fey.
And well they are both kinda loosing at this point. Each character was amazing.
The story flowed very well and that ending just has me screaming for book two!!!
You really didnt know who Mare was going to end up with and at once point I was like all over the place believing what she believed.
This one really felt like a combo of X-Men and something else. Im not sure what book it is I can't remember but it was also amazing.
Can I give this more then five stars?? BECAUSE IT NEEDS IT! :)
Where to really begin? Um, buy this book?? Yeah, that's a good place, this book is totally beyond amazing! Snag as many copies as you can!
Let's take two princes...add in a girl with a deadly secret...a mad king, who lets face it, can be totally scary and a group who wish to eradicate the king and those that stand for his beliefs and BOOM! A book filled with intense love triangle, broken hearts, lies, betrayal, deception and rebellion.
WHO DOESN'T LOVE A BOOK LIKE THAT??
Red Queen had everything I crave in a book and them some. Wickedness is just waiting to be unleashed and this reviewer cannot wait for the release of book two.
OH THE FEELS!
Oh, and you totally won't see the end coming. It will take you by complete surprise and if you're die hard like me, will have you sucking in a tight breath and dreading the turning of the page only to want to hug the book when it draws to its cliff hanging conclusion.
GIVE ME BOOK TWO NOW! :)
Victoria Aveyard, I bow down to you!!
Honesty, I'm speechless! This is one of the best books I have read this year! Everyone needs to read this book. I read this book in a few hours because I could not put it down. This book has the people of wealth and can do magic (Silver Bloods) and the subservient people (Red Bloods). There is magic, romance, and action. We have a vile King and Queen who really despise the Reds. And then Mare, who comes along and ruins everything for them. She has a tough life in this book and it seems like it will only get tougher.
The release date for Glass Sword cannot get here fast enough (February 9th 2016). I'm ready to be WOWed again.
"All opinions are 100% honest and my own."
Disclaimer: Thanks to Goodreads and Amazon for the book cover, about the book, and author information. If you can not see the link above you will need to turn off your spam blocker. Buying via these above links allows my site to get a % of the sale at no cost to you. This money gets used to buy items for giveaways.
https://www.facebook.com/CrossroadReview