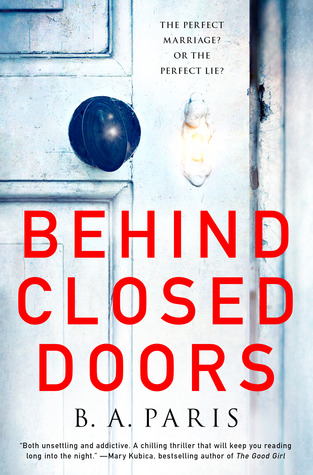 Everyone knows a couple like Jack and Grace: he has looks and wealth, she has charm and elegance. You'd like to get to know Grace better. But it's difficult, because you realize Jack and Grace are never apart. Some might call this true love.
Picture this: a dinner party at their perfect home, the conversation and wine flowing. They appear to be in their element while entertaining. And Grace's friends are eager to reciprocate with lunch the following week. Grace wants to go, but knows she never will. Her friends call—so why doesn't Grace ever answer the phone? And how can she cook such elaborate meals but remain so slim?
And why are there bars on one of the bedroom windows?
The perfect marriage? Or the perfect lie?
New York Times
and
USA Today
bestselling author B. A. PARIS grew up in England but has spent most of her adult life in France. She has worked both in finance and as a teacher and has five daughters.
Behind Closed Doors
is her first novel.
I wasn't to sure about this book when I started it. But wow. Just WOW!! If you think you know your friends guess again! Because this book will open to your eyes to the dark!
I felt so much for Grace and her sister in this book. Finding out that her husband was a freaking crazy person while in another country was just insane. I mean what would you even do!! I think Grace and her sister did the right thing in the end. Even if it is a little unethical. I think it worked out just the way it should have.
This is one amazing debut that will get under your skin. You won't be able to put it down until the last page! I really recommend it to all who want to read something different. My 12 year old wants to read it now which this one has no sex just violence and some other things that aren't suitable for kids. So be warned. Things get very dark in this story!
"All opinions are 100% honest and my own."
Disclaimer: Thanks to Goodreads and Amazon for the book cover, about the book, and author information. Buying via these above links allows my site to get a % of the sale at no cost to you. This money gets used to buy items for giveaways. In accordance with FTC guidelines regarding endorsements and testimonials for bloggers, I would like my readers to know that many of the books I review are provided to me for free by the publisher or author of the book in exchange for an honest review. I am in no way compensated for any reviews on this site. All donations are to help keep this site running via costs from shipping, .com charges, and other giveaways.
Comments are DELICIOUS! and now that were using this new format for comments the TOP 3 Commenters will all win bookish goodies each month! So that is just one more reason to comment! This is open to everyone! So get commenting!
Don't forget to check out our Facebook, Twitter, Instagram, and Pinterest!
@CrossroadReview