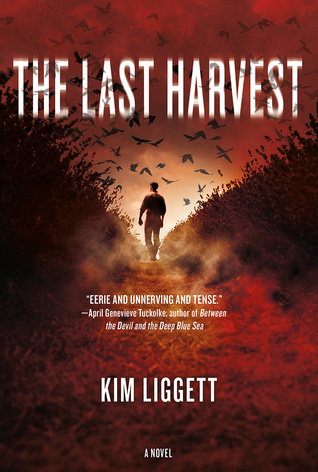 "I plead the blood."
Those were the last words seventeen-year-old golden boy quarterback Clay Tate heard rattling from his dad's throat when he discovered him dying on the barn floor of the Neely Cattle Ranch, clutching a crucifix to his chest.
Now, on the first anniversary of the Midland, Oklahoma slaughter, the whole town's looking at Clay like he might be next to go over the edge. Clay wants to forget the past, but the sons and daughters of the Preservation Society—a group of prominent farmers his dad accused of devil worship—won't leave him alone. Including Ali, his longtime crush, who suddenly wants to reignite their romance after a year of silence, and hated rival Tyler Neely, who's behaving like they're old friends.
Even as Clay tries to reassure himself, creepy glances turn to sinister stares and strange coincidences build to gruesome rituals—but when he can never prove that any of it happened, Clay worries he might be following his dad down the path to insanity...or that something far more terrifying lies in wait around the corner.
At sixteen, Kim Liggett left her rural Midwestern town for New York City, where she pursued a career in music and acting. While attending the American Academy of Dramatic Arts, Kim sang backup for some of the biggest rock bands of the 80s. After settling down to have a family, she became an entrepreneur, creating a children's art education program and a travel company specializing in tours for musicians. She's married to jazz musician Ken Peplowski, and has two beautiful teenagers. She is the author of
Blood and Salt
and
The Last Harvest
.
Looking for a VERY CREEPY book to read this year? Look no further! This is the one you need to pick up and read like ASAP! The characters made this story!
The story was very dark, creepy, with a religious vibe through the entire thing. I never felt like I was being preached at though. The story kept a very good pace and had a great mystery! The ending I didn't see coming at all and I doubt you will either!
The characters were all great as well. Clay was there but was flawed which made him feel real. The side characters were there to tie Clay to that group which I do wish they would have had a little more into the story. But it was still very good.
The darkness and creepiness of this book will keep you reading until the end where you will be yelling at the book no no no!!! All the while hoping that something even darker happens. This was one that I had to read with the lights on.
"All opinions are 100% honest and my own."
Disclaimer: Thanks to Goodreads and Amazon for the book cover, about the book, and author information. Buying via these above links allows my site to get a % of the sale at no cost to you. This money gets used to buy items for giveaways. In accordance with FTC guidelines regarding endorsements and testimonials for bloggers, I would like my readers to know that many of the books I review are provided to me for free by the publisher or author of the book in exchange for an honest review. I am in no way compensated for any reviews on this site. All donations are to help keep this site running via costs from shipping, .com charges, and other giveaways.
Comments are DELICIOUS! and now that were using this new format for comments the TOP 3 Commenters will all win bookish goodies each month! So that is just one more reason to comment! This is open to everyone! So get commenting!
Don't forget to check out our Facebook, Twitter, Instagram, and Pinterest!
@CrossroadReview