This past week I have started so many books but finishing them has been an issue. I have gone though so many books that I was really getting worried that I was just going to hate everything this month. But I knew that I could always count on Bethany Wings! This week I'm reading her newest title The Dragon's Price out next week on the 21st. It is so good! It has a lot of twists that I didn't see coming and I can't wait to finish it today!
While I was writing up this post I was thinking what book am I waiting for this year? Well the job was done for me because while getting the information for The Dragon's Price I saw this cover that looked really good. And I clicked on it and it turned out to be the newest title from Jodie Meadows. I LOVE HER title so much so I can't wait to check this one out in Sept.
This title will be released on February 21, 2017.
Fans of Julie Kagawa's Talon and Renee Ahdieh's The Wrath and the Dawn will devour this action-packed fantasy adventure about a girl who chooses to surrender herself to a deadly dragon rather than marry an enemy prince.
When two warring kingdoms unified against a deadly menace laying waste to both their lands, they had to make a choice: vow to marry their heirs to one another, or forfeit their lives to the dragon.
Centuries later, everyone expects the sheltered princess Sorrowlynn to choose the barbarian prince over the fire-breathing beast—everyone, that is, except Sorrow, who is determined to control her own destiny or die trying.
As she is lowered into the dragon's chamber, she assumes her life is over until Golmarr, the young prince she just spurned, follows her with the hopes of being her hero and slaying the dragon. But the dragon has a different plan. . . .
If the dragon wins, it will be freed from the spell that has bound it to the cave for centuries. If Sorrow or Golmarr vanquish the dragon, the victor will gain its treasure and escape the cave beneath the mountain. But what exactly is the dragon hiding?
There are no safe havens for Sorrow or Golmarr—not even with each other—and the stakes couldn't be higher as they risk everything to protect their kingdom.
Bethany Wiggins has always been an avid reader, but not an avid writer. She failed ninth grade English because she read novels instead of doing her homework. In high school, she sat alone at lunch and read massive hardback fantasy novels (Tad Williams and Robert Jordan anyone?). It wasn't until the end of her senior year that the other students realized she was reading fiction--not the Bible
Several years later, Bethany's sister dared her to start writing an hour a day until she completed a novel. Bethany wrote a seven-hundred page fantasy novel that she wisely let no one read--but it taught her how to write. The rest is history.
This title will be released on September 26, 2017.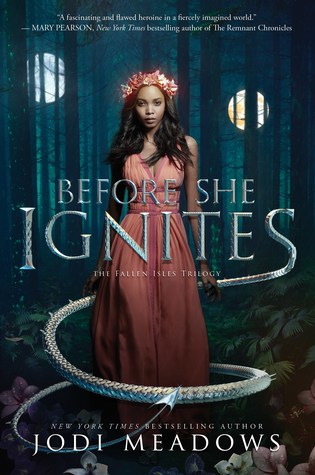 Before
Mira Minkoba is the Hopebearer. Since the day she was born, she's been told she's special. Important. Perfect. She's known across the Fallen Isles not just for her beauty, but for the Mira Treaty named after her, a peace agreement which united the seven islands against their enemies on the mainland.
But Mira has never felt as perfect as everyone says. She counts compulsively. She struggles with crippling anxiety. And she's far too interested in dragons for a girl of her station.
After
Then Mira discovers an explosive secret that challenges everything she and the Treaty stand for. Betrayed by the very people she spent her life serving, Mira is sentenced to the Pit–the deadliest prison in the Fallen Isles. There, a cruel guard would do anything to discover the secret she would die to protect.
No longer beholden to those who betrayed her, Mira must learn to survive on her own and unearth the dark truths about the Fallen Isles–and herself–before her very world begins to collapse.
Jodi Meadows's new Fallen Isles series blazes with endangered magic, slow-burn romance, and inner fire.
Jodi Meadows is the author of the Incarnate series and
The Orphan Queen
. She lives and writes in the Shenandoah Valley, Virginia, with her husband, a cat, and an alarming number of ferrets. She is a confessed book addict and has wanted to be a writer ever since she decided against becoming an astronaut.
"All opinions are 100% honest and my own."
Disclaimer: Thanks to Goodreads and Amazon for the book cover, about the book, and author information. Buying via these above links allows my site to get a % of the sale at no cost to you. This money gets used to buy items for giveaways. In accordance with FTC guidelines regarding endorsements and testimonials for bloggers, I would like my readers to know that many of the books I review are provided to me for free by the publisher or author of the book in exchange for an honest review. I am in no way compensated for any reviews on this site. All donations are to help keep this site running via costs from shipping, .com charges, and other giveaways.
Comments are DELICIOUS! and now that were using this new format for comments the TOP 3 Commenters will all win bookish goodies each month! So that is just one more reason to comment! This is open to everyone! So get commenting!
Don't forget to check out our Facebook, Twitter, Instagram, and Pinterest!
@CrossroadReview