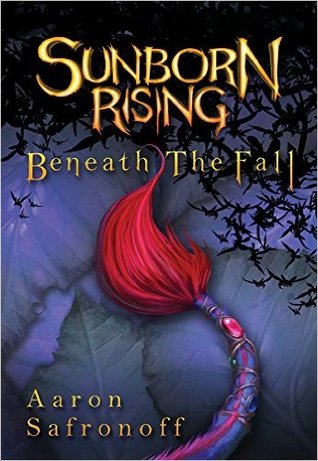 On a distant world of forests floating on an ocean around a star, a blight threatens to plunge all life into darkness.
But three friends seek the light.
Together, they will Fall and be lost.
And at the very Root of darkness, they will find themselves.
But will it be enough to help them find their way home?

The World of Cerulean
Light and water flow from the ocean into the roots of the Great Trees, up through the boughs, and out over the lush canopies. But the once vibrant treescape has grown dim over generations of arboreal life, and the creatures of the forest have forgotten the light.
Barra, a young, willful Listlespur, finds her late father's hidden journal, and reads about the old world and the mysterious plague her father believed destroyed it. He wrote that he warned the Elders. He urged them to take action. Those were his last words.
Together with her two best friends, Barra will explore every bark, wood, and leaf of the Great Forest to relight her world and complete her father's story, even if she has to travel beneath the Fall.
Aaron Safronoff is author of the Discovery Award winning science fiction novel,
Spire
. Since his debut, he's published a sequel,
Fallen Spire
, and a novella of literary fiction,
Evening Breezes
.
Safronoff's diverse background includes the formal study of computer science, bio-chemistry, and culinary arts. However, most of his career has been in the videogame industry in quality, production, and design.
Today, Safronoff is the co-founder and Chief Storyteller of Neoglyphic Entertainment, and is busy writing his fifth novel, the second installment of the Sunborn Rising series.
This is Endy
This book was wonderful! It has some of the best artwork ive seen this year! With an imaginative plot and a breathtaking world this is one that shouldn't be missed. I really loved all the artwork it make the story come alive! It was very Avatar for me but that just make me love it more! I loved all the characters and can't wait for the next one!
This would be a fabulous book for both boys and girls of the middle grade age.
Book in a Pinch
Peril and Mystery in a breathtaking inventive world!
Go Into This One Knowing
Mystery, Worldbuilding that is amazing and wonderful! Great for all ages!
Disclaimer:
"All opinions are 100% honest and my own."
Thanks to Goodreads and Amazon for the book cover, about the book, and author information. Buying via these above links allows my site to get a % of the sale at no cost to you. This money gets used to buy items for giveaways. In accordance with FTC guidelines regarding endorsements and testimonials for bloggers, I would like my readers to know that many of the books I review are provided to me for free by the publisher or author of the book in exchange for an honest review. I am in no way compensated for any reviews on this site. All donations are to help keep this site running via costs from shipping, .com charges, and other giveaways.
Comments are DELICIOUS! and now that were using this new format for comments the TOP 3 Commenters will all win bookish goodies each month! So that is just one more reason to comment! This is open to everyone! So get commenting!
Don't forget to check out our Facebook, Twitter, Instagram, and Pinterest!
@CrossroadReview