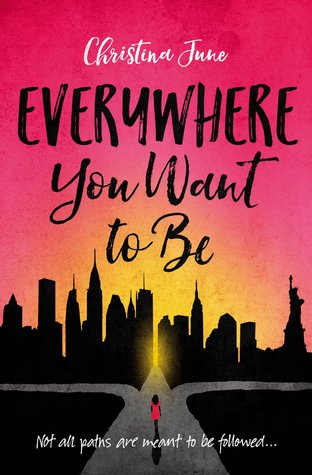 From author Christina June comes Everywhere You Want to Be, a modern tale inspired by the classic Red Riding Hood.

Matilda Castillo has always done what she was told, but when she gets injured senior years, she watches her dreams of becoming a contemporary dancer slip away. So when Tilly gets a once-in-a-lifetime opportunity to spend the summer with a New York dance troupe, nothing can stop her from saying yes--not her mother, not her fears of the big city, and not the commitment she made to Georgetown. Tilly's mother allows her to go on two conditions: one, Tilly will regularly visit her abuela in New Jersey, and two, after the summer, she'll give up dancing and go off to college.

Armed with her red vintage sunglasses and her pros and cons lists, Tilly strikes out, determined to turn a summer job into a career. Along the way she meets new friends ... and new enemies. Tilly isn't the only one desperate to dance, and fellow troupe member Sabrina Wolfrik intends to succeed at any cost. But despite dodging sabotage and blackmail attempts from Sabrina, Tilly can't help but fall in love with the city, especially since Paolo, a handsome musician from her past, is also calling New York home for the summer.

As the weeks wind down and the competition with Sabrina heats up, Tilly's future is on the line. She must decide whether to follow her mother's path to Georgetown or leap into the unknown to pursue her own dreams.
Recommended Age: Young Adult
How I Acquired this book: Publisher
About the Author:
Christina June writes young adult contemporary fiction when she's not writing college recommendation letters during her day job as a school counselor. She loves the little moments in life that help someone discover who they're meant to become--whether it's her students or her characters. Christina is a voracious reader, loves to travel, and hopes to one day be bicoastal--the east coast of the US and the east coast of Scotland. She lives just outside Washington, D.C., with her husband and daughter.
Noteworthy experiences while reading this book: Not much of a retelling in my mind.
Check out author's other books? Yes
Recommend this book? Yes
Notes and Opinions: I had a few issues with this one but they are pretty minor. The first being it wasn't really a retelling. It was more of a girl trying to find her way in a world she really deep down I think she thought she wasn't ready for it. The next thing was about how the story constantly said her stepsister instead of just her sister. I felt like there was weird to keep making that distinction between them. It sounded like they had been sisters since they were little and went to different dance classes I would think that after being together for years and growing up together that it would change to them just being sisters and her dad just being her dad vs. them being stepsisters etc. My own children do not make the distinction between being half-siblings. So that is just one thing that was slightly irritating. The last thing was that how Matilda was so scared about her mom finding out that she had lied. I understand that she is only 17/18 but she is done with high school and is, in other words, an adult. Teens put way too much authority on their parents at that age. Her mother could NOT make her come home she is of age and has the right to do as she pleases.
Ok so with those in mind this one I thought would have done even better in my mind if it would have dived head first into the ballet aspect of the story. I really wished that we would have gotten into that in this story as it felt like it was pretty much just on the surface as we went through the situation that our MC was in. That made the book slightly lacking.
The characters were all well and all and I really did love Matilda although like most teens she made some bad choices. When she started getting bullied she didn't speak up. She could have but she chose to stay silent. Teens and Adults nowadays need to know that they can go to people when things like this happen. Although in this case, it all worked out in the end. BUT it should have been resolved faster than it was. But on the other hand, Sabrina could have gone to the teacher and told her what her mother was doing. So it is kind of a give and takes situation. These teens chose poorly and could have gotten so many people hurt. I would have loved if the story would have taken the route of these teens standing up for themselves instead of taking it all in stride.
The story as a whole was still pretty good if not a little slow. It reminded me of a movie that was out ages ago called Center Stage especially the ending. If you are looking for a quick contemporary read with a little romance and some danger and some determination after an injury I recommend you pick this one up.
Go Into This One Knowing: Little Slow, Not Really a Retelling, Light Romance, Determination
Disclaimer:
"All opinions are 100% honest and my own."
Thanks to Goodreads and Amazon for the book cover, about the book, and author information. Buying via these links allows my site to get a % of the sale at no cost to you. This money gets used to buy items for giveaways.
FTC Guidelines: In accordance with FTC guidelines regarding endorsements and testimonials for bloggers, I would like my readers to know that many of the books I review are provided to me for free by the publisher or author of the book in exchange for an honest review. If am compensated for any reviews on this site I will state that post has been sponsored.
Donations: All donations are to help keep this site running via costs from shipping, .com charges, and other giveaways.
Comments are DELICIOUS! and now that were using this new format for comments the TOP 3 Commenters will all win bookish goodies each month! So that is just one more reason to comment! This is open to everyone! So get commenting!
Don't forget to check out our Facebook, Twitter, Instagram, and Pinterest!
Save
Save