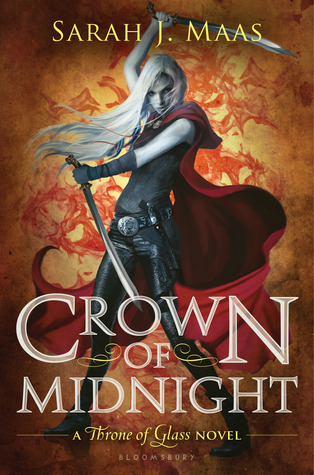 "A line that should never be crossed is about to be breached.

It puts this entire castle in jeopardy—and the life of your friend."
From the throne of glass rules a king with a fist of iron and a soul as black as pitch. Assassin Celaena Sardothien won a brutal contest to become his Champion. Yet Celaena is far from loyal to the crown. She hides her secret vigilantly; she knows that the man she serves is bent on evil.
Keeping up the deadly charade becomes increasingly difficult when Celaena realizes she is not the only one seeking justice. As she tries to untangle the mysteries buried deep within the glass castle, her closest relationships suffer. It seems no one is above questioning her allegiances—not the Crown Prince Dorian; not Chaol, the Captain of the Guard; not even her best friend, Nehemia, a foreign princess with a rebel heart.
Then one terrible night, the secrets they have all been keeping lead to an unspeakable tragedy. As Celaena's world shatters, she will be forced to give up the very thing most precious to her and decide once and for all where her true loyalties lie...and whom she is ultimately willing to fight for.
About the Author
Biography
Website:
http://sarahjmaas.com/
Twitter:
SJMaas
Facebook:
THRONEOFGLASS
Goodreads:
Sarah J. Maas
My Review 5 Killer Stars
OMG So this one came out of left field and I have to say that I didn't see this turn coming until way into it. This one was just more amazing than book one and I have to say that even through these things are very long they are worth it. This one again makes me want this love triangle to turn out well as I love these characters and don't want anyone to get hurt. I will say that if you don't like spoilers don't even look at book three until you have read this one or it will spoil it.
Also this one will so make you cry, scream, and wail! So have tissues near by.
"All opinions are 100% honest and my own."
Buy The Book
Disclaimer: Thanks to Goodreads and Amazon for the book cover, about the book, and author information.