Welcome to my bi-weekly meme of ARCs that I need to read and you can win! Here is my review from last weeks post. I hope you enjoy it!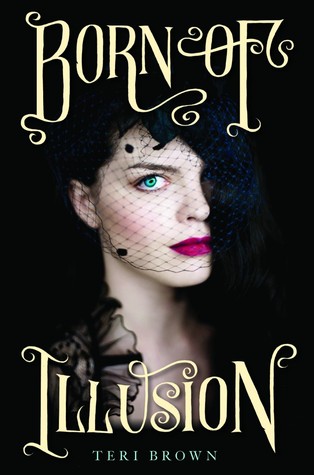 Anna Van Housen has a secret.
A gifted illusionist, Anna assists her mother, the renowned medium Marguerite Van Housen, in her stage show and séances, easily navigating the underground world of magicians, mediums, and mentalists in 1920's New York. As the illegitimate daughter of Harry Houdini—or so Marguerite claims—sleight of hand illusions have never been a challenge for Anna. The real trick is keeping her own gifts secret from her opportunistic mother. Because while Marguerite's own powers may be a sham, Anna possesses a true ability to sense people's feelings and foretell the future.
But as Anna's powers intensify, she begins to experience frightening visions of her mother in peril, which leads her to explore the powers she's tried so long to hide. And when a mysterious young man named Cole moves into the flat downstairs, introducing Anna to a secret society that studies people with gifts like hers, she is forced to confront her past and rethink everything she's ever known. Is her mother truly in danger, or are Anna's visions merely illusion? And could the great Houdini really be her father, or is it just another of Marguerite's tricks?
From Teri Brown comes a world bursting with magic, with romance, and the temptations of Jazz Age New York—and the story of a girl about to become the mistress of her own destiny.
Fnished eCopy
About the Author
Well behaved women rarely make history. Teri Brown lived that quote way before she ever even heard it. The two things she is most proud of, (besides her children), is that she jumped out of an airplane once and she beat the original Legend of Zelda video game. She is a novel writer, head banger, pet keeper, math hater, cocktail drinker, booty shaker, book reader, city slicker, food fixer, French kisser, rule breaker, wine sipper and word scribbler. She loves her husband, kitties and chocolate.
Website:
http://www.teribrownbooks.com
Twitter:
teribrownwrites
Goodreads:
Teri Brown
My Review
I really love this series. So glad I go the chance to read it! It really reminded me of that movie Now You See Me. Just this is set in the time of Harry Houdini. The only issue I had was that there was a missed typo. The one guys name is Cole not Colin although for the first 50 some odd pages it switches back and forth. I thought I was going nuts.
Pg. 89
"Why?" I ask, and then want to kick myself again. I can pick a lock or pocket with ease, make cards appear and disappear like a jack-in-the-box, and break in and out of small-town jails without being detected, but put me in the presence of a nice young man and I become the village idiot.
Go Into This One Knowing
kinda slow but a good slow
"All opinions are 100% honest and my own."
Buy The Book
Editorial Reviews
Harry Houdini is Anna Van Housen's father—at least that's what her mother, Marguerite, has always told her. Mother and daughter have had a difficult, peripatetic life performing magic shows and conducting séances, but when they land in New York City, they find a stable home and increasing fame (even Vanderbilts attend their performances). For Marguerite, it's a matter of being a good actress, but for 16-year-old Anna, there's more to it than sleight of hand, as she truly feels and sees things that are inexplicable, adding excitement and danger to their shows and lives. Regardless of whether this ability is a matter of pedigree or coincidence, it makes her a person of interest to suave young men, dangerous kidnappers, and the real-life Society for Psychical Research. Yet despite these promising details, the story's actual point is rather nebulous and blandly executed. Still, the 1920s elements of prohibition, automobiles, and cloche hats are interesting, and the timeless adolescent themes of self-definition, rebellion, and romance infuse the magic with a realism that may be comforting, if predictable. Grades 8-12. --Andrew Medlar
Review
"Characterization is a strength in this first-person narrative, in which the setting, New York City in the 1920s, is so richly drawn as to become a character in itself …. Will appeal to fans of Libba Bray." (Kirkus Reviews)

"Anna's strong personality and her complex relationship with her mother (who mixes love with professional jealousy), as well as a slightly supernatural romance, provide lots of teen appeal. " (The Horn Book)

"Teri Brown creates a world of magic and deception, romance and intrigue. This book sparkles with dark arts." (Melissa Walker, author of UNBREAK MY HEART and SMALL TOWN SINNERS)

"I suppose I could wax on about this book's strengths—its magic, romance and exquisite historical detail—but the bottom line is: Teri Brown's BORN OF ILLUSION is the most thoroughly enjoyable novel I've read all year." (Lauren Baratz-Logsted, author of THE TWIN'S DAUGHTER)
Disclaimer: Thanks to Goodreads and Amazon for the book cover, about the book, and author information.