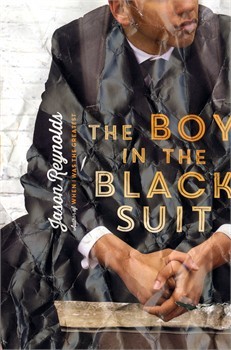 Just when seventeen-year-old Matt thinks he can't handle one more piece of terrible news, he meets a girl who's dealt with a lot more—and who just might be able to clue him in on how to rise up when life keeps knocking him down—in this wry, gritty novel from the author of
When I Was the Greatest
.
Matt wears a black suit every day. No, not because his mom died—although she did, and it sucks. But he wears the suit for his gig at the local funeral home, which pays way better than the Cluck Bucket, and he needs the income since his dad can't handle the bills (or anything, really) on his own. So while Dad's snagging bottles of whiskey, Matt's snagging fifteen bucks an hour. Not bad. But everything else? Not good. Then Matt meets Lovey. She's got a crazy name, and she's been through more crazy than he can imagine. Yet Lovey never cries. She's tough. Really tough. Tough in the way Matt wishes he could be. Which is maybe why he's drawn to her, and definitely why he can't seem to shake her. Because there's nothing more hopeful than finding a person who understands your loneliness—and who can maybe even help take it away.
About the Author
After earning a BA in English from The University of Maryland, College Park, he moved to Brooklyn, New York, where you can often find him walking the four blocks from the train to his apartment talking to himself. Well, not really talking to himself, but just repeating character names and plot lines he thought of on the train, over and over again, because he's afraid he'll forget it all before he gets home.
This was a pretty solid read. The only thing I didnt like was the ending. It was a little to tied up in a bow. A boy working through grief falling for a girl. It was worth the read.
Go Into This One Knowing
No cliffhanger, Ending to convenient
"All opinions are 100% honest and my own."


a Rafflecopter giveaway
Disclaimer: Thanks to Goodreads and Amazon for the book cover, about the book, and author information. If you can not see the link above you will need to turn off your spam blocker. Buying via these above links allows my site to get a % of the sale at no cost to you. This money gets used to buy items for giveaways.
Love doing your nails? Well find a new way to do it without all the smell and fuss! Jamberry nail wraps are the way to go! They are vinyl wraps that no dry time and are sold for $15 a sheet that will get you 2 manicures and 2 pedicures! And you can even buy them Buy 3 Get 1 Free!
http://crossroads.jamberrynails.net
The best part is if you buy from me I will send you a loyalty card. And when you fill it up you get free products! Want more for free? Well host a party! Its free and It can even be done online!
http://crossroads.jamberrynails.net/host/
https://www.facebook.com/CrossroadReview