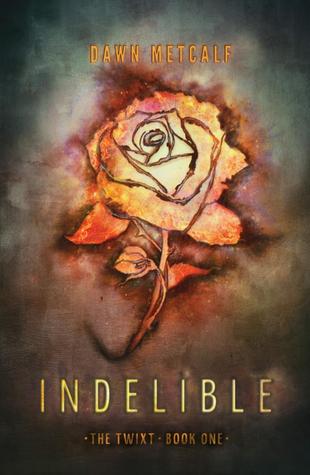 Some things are permanent.

Indelible.

And they cannot be changed back.

Joy Malone learns this the night she sees a stranger with all-black eyes across a crowded room—right before the mystery boy tries to cut out her eye. Instead, the wound accidentally marks her as property of Indelible Ink, and this dangerous mistake thrusts Joy into an incomprehensible world—a world of monsters at the window, glowing girls on the doorstep, and a life that will never be the same.

Now, Joy must pretend to be Ink's chosen one—his helper, his love, his something for the foreseeable future...and failure to be convincing means a painful death for them both. Swept into a world of monsters, illusion, immortal honor and revenge, Joy discovers that sometimes, there are no mistakes.

Somewhere between reality and myth lies…

THE TWIXT
About the Author
Biography
Ugh Well this one just didnt work for me and I stopped reading it a little after chapter 1 or 2. The story picks up where the girls are at a party and the MC gets sliced in the eye. She lies to her dad about how it happened. At home her dad offers to leave the house and have her and her friend stay and eat pizza and watch movies. I have to say that this would have been fine if it would have been early at night not like midnight etc. Well her friend ditches her for a boy she has only met once. So she is now home alone. She falls sleep on the couch to be woken from a strange noise.
Well it turns out to be this creepy creature. She calls her dad and they call the cops and make a report. She goes to school the next week and finds these strange texts. Well she then decides that the note that the creature CREATURE!!!!!! Scratched into the window in creepy light was an address. So she puts it into her phone and finds that its within walking distance from school. So she goes.
That is pretty much where I was like WTF!!! I mean this creature creeped you out. You have one good eye right now. Your dad thinks your lying because your still having issues with you mom walking out. I mean in what world would a teenager decide to just up and go to this address?!?!?!?!?!?!
So no I just couldn't do it!!!!
Go Into This One Knowing
Not believable plot
"All opinions are 100% honest and my own."


Disclaimer: Thanks to Goodreads and Amazon for the book cover, about the book, and author information. If you can not see the link above you will need to turn off your spam blocker. Buying via these above links allows my site to get a % of the sale at no cost to you. This money gets used to buy items for giveaways.
Love doing your nails? Well find a new way to do it without all the smell and fuss! Jamberry nail wraps are the way to go! They are vinyl wraps that no dry time and are sold for $15 a sheet that will get you 2 manicures and 2 pedicures! And you can even buy them Buy 3 Get 1 Free!
http://crossroads.jamberrynails.net
The best part is if you buy from me I will send you a loyalty card. And when you fill it up you get free products! Want more for free? Well host a party! Its free and It can even be done online!
http://crossroads.jamberrynails.net/host/
https://www.facebook.com/CrossroadReview