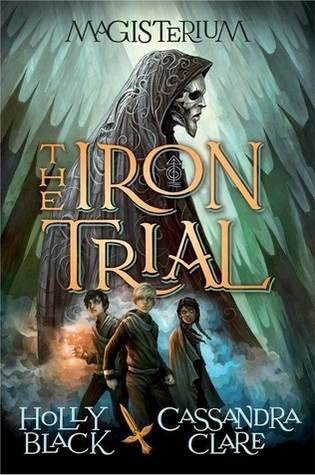 Most kids would do anything to pass the Iron Trial.
Not Callum Hunt. He wants to fail.
All his life, Call has been warned by his father to stay away from magic. If he succeeds at the Iron Trial and is admitted into the Magisterium, he is sure it can only mean bad things for him.
So he tries his best to do his worst - and fails at failing.
Now the Magisterium awaits him. It's a place that's both sensational and sinister, with dark ties to his past and a twisty path to his future.
The Iron Trial is just the beginning, for the biggest test is still to come . . .
About the Authors
Holly Black is the #1 NEW YORK TIMES bestselling author of The Spiderwick Chronicles (with Tony DiTerlizzi) and the acclaimed novel DOLL BONES. Her other books include The Good Neighbors graphic novels, and the novels TITHE, VALIANT, and IRONSIDE. She currently lives in the realm of Western Massachusetts.
Cassandra Clare is the author of CITY OF BONES, the first book in The Mortal Instruments trilogy and a NEW YORK TIMES bestseller. Her latest series, The Infernal Devices, has spawned three #1 bestsellers. Born overseas, Cassandra spent her early years traveling around the world with her family and several trunks of books.
I'm a huge fan of both Holly Black and Cassandra Clare. I mean, who isn't? And I've been wanting to read the Iron Trial for a while not, but went back and forth with am I too old to be reading another series that could potentially be similar to other middle grade books I've loved? i.e. Percy Jackson, Harry Potter. But when I was given the opportunity by Jessica at Crossroad reviews, I mean, I had to just on my chance. Here's the low down, because before I read it, I naturally looked at a few of the reviews. And I was actually a little taken back by what some where saying about it being similar or closely held as a rip off of Harry Potter.
Can I just say that reviews like that are really such a low blow to an author? Okay, I get it, ideas are similar and sometimes a plot line might be like another, but that doesn't mean and author went and snagged a book off the shelves and laughed wickedly, while they rubbed hands together saying "yes! This will be the story idea I'll make millions on! HAHAHAHA!" *Shakes head.* No. This doesn't happen. Generally speaking, most authors are connected in some way or another. We talk, we read and *gasp* I know, we share similar ideas! But that doesn't mean we jack the idea and run away and type out another fantastic book just like another authors work. How many vampire books are out there? Does that mean that every author who wrote a vamp book that turned into a lusty love triangle stole Stephenie Meyer's idea? Ah...I don't think so. It just happens that another kick butt author wrote a book about something they were passionate about.
With that being said, I loved Iron Trial. Hands down, yes, it was AWESOME and had some similar plays of Harry Potter, but Harry Potter was awesome and I've been a fan since I first read the series, so why wouldn't I love a book that was said to be similar? It makes very little sense to me, not to have loved this book.
If you love Harry Potter and want to read an exciting plot filled with adventure, humor, twists and turns and an ending that leaves you drooling for more, then this book is totally for you. If you don't want to read a book that has similarities to another, might I suggest, not reading at all? Because you're going to find that from time to time and as one reviewer had so awesomely pointed out, if you don't like the book, don't read it. :)
Thanks Crossroad Reviews for allowing me to take over and gab about an stunningly awesome adventure that I bet as my daughter grows, will be a book we will read numerous times, just like Harry Potter. :)
"All opinions are 100% honest and my own."
Disclaimer: Thanks to Goodreads and Amazon for the book cover, about the book, and author information. If you can not see the link above you will need to turn off your spam blocker. Buying via these above links allows my site to get a % of the sale at no cost to you. This money gets used to buy items for giveaways.
https://www.facebook.com/CrossroadReview