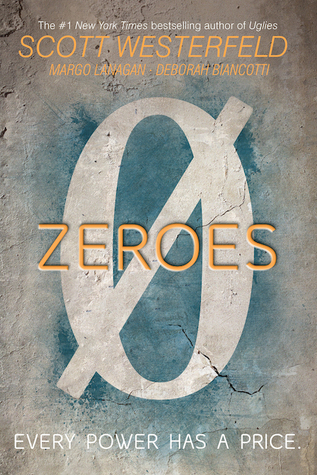 Ethan, aka "Scam," has a way with words. When he opens his mouth, whatever he wants you to hear comes out. But Ethan isn't just a smooth talker. He has a unique ability to say things he doesn't consciously even know. Sometimes the voice helps, but sometimes it hurts - like now, when the voice has lied and has landed Ethan in a massive mess. So now Ethan needs help. And he needs to go to the last people who would ever want to help him - his former group of friends, the self-named "zeros" who also all possess similarly double-edged abilities, and who are all angry at Ethan for their own respective reasons. Brought back together by Scam's latest mischief, they find themselves entangled in an epic, whirlwind adventure packed with as much interpersonal drama as mind-bending action.
About the Author
Scott Westerfeld is the author of the Leviathan series, the first book of which was the winner of the 2010 Locus Award for Best Young Adult Fiction. His other novels include the
New York Times
bestseller
Afterworlds
, the worldwide bestselling
Uglies series,
The Last Days
,
Peeps
,
So Yesterday
, and the Midnighters trilogy. Visit him at ScottWesterfeld.com or follow him on Twitter at @ScottWesterfeld.
Margo Lanagan has been publishing stories for children, young adults and adult readers for twenty-five years. She has won numerous awards, including four World Fantasy Awards. Two of her books have been Michael L. Printz Honor books and she has been shortlisted for the Hugo and Nebula awards and for the Los Angeles Times Book Prize in the young adult division. Visit Margo at her blog, AmongAmidWhile.Blogspot.com, or follow her on Twitter at @MargoLanagan.
Deborah Biancotti has written two short story collections,
Bad Power
and
A Book of Endings
. She's been nominated for the Shirley Jackson Award and the William L. Crawford Award for Best First Fantasy Book. You can find her online at DeborahBiancotti.com or on Twitter at @Deborah_B.
I'm a huge fan of X-Men. I've loved them since I was seven and my cousin showed me a few comic books. Then came the movies and I was such sucker for them. I always wanted to be Storm or Rouge...and then came this amazingly awesome, fun new read from Scott Westerfeld, Deborah Biancotti and Margo Lanagan. A book that screamed to me X-Men! So, naturally, I had to have it. I had to read it! It was a compulsion in me. I have to say, it didn't disappoint. I've read some reviews that it was hard to keep up with (since there are a few different POVs...okay, as 6 to be precise) but I found this book to be awesome. I'm a sucker for books with more then one POV... I know a lot of reviewers aren't, but to me, it's refreshing to read another character in a book. I guess that's why I love books that come out that contain character spin offs. Either way, I found Zeros to be filled with non-stop excitement, thrills and incredible "gifts." A world, that I myself wish to be apart of! I hope that this isn't the last of these character we see--something tells me, it won't. And Yay for that!
Go Into This One Knowing
"All opinions are 100% honest and my own."
a Rafflecopter giveaway
Disclaimer: Thanks to Goodreads and Amazon for the book cover, about the book, and author information. If you can not see the link above you will need to turn off your spam blocker. Buying via these above links allows my site to get a % of the sale at no cost to you. This money gets used to buy items for giveaways.
https://www.facebook.com/CrossroadReview