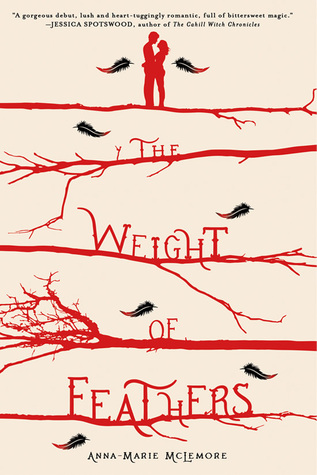 For twenty years, the Palomas and the Corbeaus have been rivals and enemies, locked in an escalating feud for over a generation. Both families make their living as traveling performers in competing shows—the Palomas swimming in mermaid exhibitions, the Corbeaus, former tightrope walkers, performing in the tallest trees they can find.
Lace Paloma may be new to her family's show, but she knows as well as anyone that the Corbeaus are pure magia negra, black magic from the devil himself. Simply touching one could mean death, and she's been taught from birth to keep away. But when disaster strikes the small town where both families are performing, it's a Corbeau boy, Cluck, who saves Lace's life. And his touch immerses her in the world of the Corbeaus, where falling for him could turn his own family against him, and one misstep can be just as dangerous on the ground as it is in the trees.
Beautifully written, and richly imaginative, The Weight of Feathers is an utterly captivating young adult novel by a talented new voice.
ANNA-MARIE MCLEMORE was born in the foothills of the San Gabriel Mountains and grew up in a Mexican-American family. She attended University of Southern California on a Trustee Scholarship. A Lambda Literary Fellow, she has had work featured by the Huntington-USC Institute on California and the West, CRATE Literary Magazine's
cratelit
,
Camera Obscura
's Bridge the Gap Series, and
The Portland Review
.
The Weight of Feathers
is her first novel.
This on had a true Romeo and Juliet feel updated for our time with a wonderful magical twist.
I loved the characters in this one. Lace and Cluck (yes that is his name) feel so alone and alienated, they struggle so much in this book with their families superstition and anger and rage for the other.
The story was a beautiful work of art and the only thing I didn't really like about it was all the different words in Spanish and French. I don't feel like I should have to go look them up. I should be able to enjoy the book one page after the other. So that was the only thing that kept me from giving this one 5 stars. That being said I loved the different cultures that each family brought to the story. It gave this book something fresh and new.
Go Into This One Knowing
Dual POV, magic, romance
"All opinions are 100% honest and my own."
a Rafflecopter giveaway
Disclaimer: Thanks to Goodreads and Amazon for the book cover, about the book, and author information. If you can not see the link above you will need to turn off your spam blocker. Buying via these above links allows my site to get a % of the sale at no cost to you. This money gets used to buy items for giveaways.
https://www.facebook.com/CrossroadReview