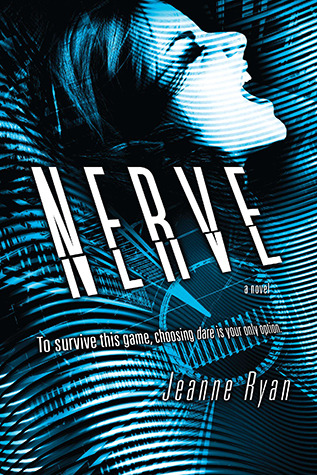 Genres: Science Fiction
Pages: 304
Source: Library
Add it to Goodreads
For fans of The Hunger Games
A high-stakes online game of dares turns deadly
When Vee is picked to be a player in NERVE, an anonymous game of dares broadcast live online, she discovers that the game
knows
her. They tempt her with prizes taken from her ThisIsMe page and team her up with the perfect boy, sizzling-hot Ian. At first it's exhilarating--Vee and Ian's fans cheer them on to riskier dares with higher stakes. But the game takes a twisted turn when they're directed to a secret location with five other players for the Grand Prize round. Suddenly they're playing all or nothing, with their lives on the line. Just how far will Vee go before she loses NERVE?
Debut author Jeanne Ryan delivers an un-putdownable suspense thriller.
Well this one started out fairly well. But then died a horrible death. You have the MC. Who apparently likes this boy etc. she did something wrong so she's grounded and has to be home by ten pm. In their world there's this site called Nerve where you can audition to be one of the live darers which all that was pretty cool.
So the MC decides on a whim to do one of the Dares and she does it. Then everyone finds out. It's all fun and games. She does end up being late home from the dare but plays it off to her parents.
Ok so a day goes by and all these comments start popping up etc. on her video. And then the company Nerve emails her saying want to win some shoes? Well do this dare. Ok so this is where I had the issue. I understand that this is a teen girl and that these shoes if you want them are on a three or four month waiting list. But I mean the MC seems like a pretty stand up straight forward girl. She works for the drama dept at school and pretty much listens to her parents. So WHY WHY WHY!!! Would she try and beat the clock to win some shoes!?!?!?!?
Ok so that's pretty much where I DNFed it.
In the end I'm kinda wondering why they are turning this book into a movie. When there are some amazing books out there!
Go Into This One Knowing
Shoes are more important
"All opinions are 100% honest and my own."
Disclaimer: Thanks to Goodreads and Amazon for the book cover, about the book, and author information. Buying via these above links allows my site to get a % of the sale at no cost to you. This money gets used to buy items for giveaways. In accordance with FTC guidelines regarding endorsements and testimonials for bloggers, I would like my readers to know that many of the books I review are provided to me for free by the publisher or author of the book in exchange for an honest review. I am in no way compensated for any reviews on this site. All donations are to help keep this site running via costs from shipping, .com charges, and other giveaways.
https://www.facebook.com/CrossroadReview