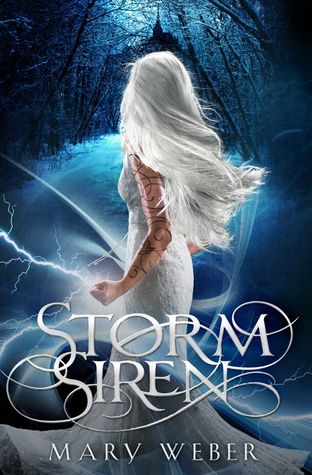 Genres: Fantasy
Pages: 320
Source: Purchased
Add it to Goodreads
"I raise my chin as the buyers stare. Yes. Look. You don't want me. Because, eventually, accidentally, I will destroy you."

In a world at war, a slave girl's lethal curse could become one kingdom's weapon of salvation. If the curse—and the girl—can be controlled.

As a slave in the war-weary kingdom of Faelen, seventeen-year-old Nym isn't merely devoid of rights, her Elemental kind are only born male and always killed at birth — meaning, she shouldn't even exist.

Standing on the auction block beneath smoke-drenched mountains, Nym faces her fifteenth sell. But when her hood is removed and her storm-summoning killing curse revealed, Nym is snatched up by a court advisor and given a choice: be trained as the weapon Faelen needs to win the war, or be killed.

Choosing the former, Nym is unleashed into a world of politics, bizarre parties, and rumors of an evil more sinister than she's being prepared to fight . . . not to mention the handsome trainer whose dark secrets lie behind a mysterious ability to calm every lightning strike she summons.

But what if she doesn't want to be the weapon they've all been waiting for?

Set in a beautifully eclectic world of suspicion, super abilities, and monsters, Storm Siren is a story of power. And whoever controls that power will win.
Mary Weber is a ridiculously uncoordinated girl plotting to take over make-believe worlds through books, handstands, and imaginary throwing knives. In her spare time, she feeds unicorns, sings 80's hairband songs to her three muggle children, and ogles her husband who looks strikingly like Wolverine. They live in California, which is perfect for stalking L.A. bands, Joss Whedon, and the ocean. Visit Mary online at maryweber.com Twitter: @mchristineweber Facebook: marychristineweber
OMG I swear this book gets better and better ever time I read it. This time is my third time reading this book and Swoon the Feels!! The ending just gets me every time and that cliffhanger always makes me scream!! I so can't wait to get to the third book! Which I'm also so sad about since its the ending! I don't want this to end.
I want to tell you that if you are shying away from this because its published with Harper's Christian Division don't be! There are no Christian themes no preaching etc in this book at all! So don't let that scare you away!
This story still reminds me of the story of Avatar the Last Airbender. Were people could use the elements. I still would love to see more about their past history! I think as I marked below a prequel for the characters would be fabulous!
Ok so this one magic, adventure, betrayal and more await the reader in this wonderful magical read about a girl who has been a slave after killing her parents when she was young. The only female elemental in a world where if she had been born a male she would have been killed at birth. This book has so many amazing characters! From Colin and his sister Breck to Eogan and of course Nym herself. Each one brings so much to the story!
I think my fav character is Colin he was such a bald joking guy! I really wish we could get a prequel in his and his sister's POV about how they came to be here etc.
Although I loved Nym as well I think she should have stood up for herself a little more than what she did. But being a slave I can understand why she didn't.
The world building in this one was amazing! All the flesh eating creatures and just the world at large. I would love to learn some more in-depth things about the world they live in and call home.
The story was so good. Twists, turns, and unexpected things happen so much in this one that it will keep with you long after you are done reading. I loved the fact that although the author could have she stayed away from the love triangle that could have happened. I really hope that somewhere in these books that all the slaves are freed. I don't remember every much from book two and well I haven't touched book three so I'm very excited! I was also kinda hoping that our lovely Nym somehow becomes a queen!
The ending will rip your heart out. I remember reading this the first time and getting on twitter and telling Mary that she was evil! I also remember her telling me that yes yes she was! If I'm not mistaken there were some choice evil emotions things on there to. Well even after reading this book three times she is still very evil! But I love this series so much! Its a def. must read!
Go Into This One Knowing
No Love Triangle, Many Twists, Fast Paced,
KILLING RIP YOUR HEART OUT CLIFFHANGER!!!
"All opinions are 100% honest and my own."
a Rafflecopter giveaway
Disclaimer: Thanks to Goodreads and Amazon for the book cover, about the book, and author information. Buying via these above links allows my site to get a % of the sale at no cost to you. This money gets used to buy items for giveaways. In accordance with FTC guidelines regarding endorsements and testimonials for bloggers, I would like my readers to know that many of the books I review are provided to me for free by the publisher or author of the book in exchange for an honest review. I am in no way compensated for any reviews on this site. All donations are to help keep this site running via costs from shipping, .com charges, and other giveaways.
https://www.facebook.com/CrossroadReview