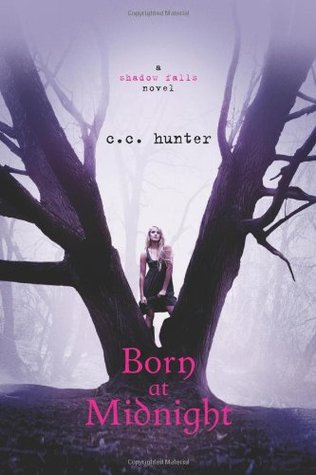 Don't miss this spectacular new series that will steal your heart and haunt your dreams, Welcome to Shadow Falls camp, nestled deep in the woods of a town called Fallen…
One night Kylie Galen finds herself at the wrong party, with the wrong people, and it changes her life forever. Her mother ships her off to Shadow Falls—a camp for troubled teens, and within hours of arriving, it becomes painfully clear that her fellow campers aren't just "troubled." Here at Shadow Falls, vampires, werewolves, shapeshifters, witches and fairies train side by side—learning to harness their powers, control their magic and live in the normal world.
Kylie's never felt normal, but surely she doesn't belong here with a bunch of paranormal freaks either. Or does she? They insist Kylie is one of them, and that she was brought here for a reason. As if life wasn't complicated enough, enter Derek and Lucas. Derek's a half-fae who's determined to be her boyfriend, and Lucas is a smokin' hot werewolf with whom Kylie shares a secret past. Both Derek and Lucas couldn't be more different, but they both have a powerful hold on her heart.
Even though Kylie feels deeply uncertain about everything, one thing is becoming painfully clear—Shadow Falls is exactly where she belongs…
Finished Copy-Owned
About the Author
›
Amazon
|
Facebook
|
Twitter
|
Goodreads
|
Website
Biography
My Review 4 Stars Worth the Supernatural Yummies
What can I say about this one? I liked the first and last 100 pages more than the middle 200. I don't really consider this a must read but it was still worth it. I didnt like that our MC Kylie spent most of the book whining and comparing guys to her ex. I really hope that she doesn't do that in book two. I think that this one would have been a die hard read if it would have been a little bit faster. It was very long. That being said it was a great new blend of supernatural creatures! With some new takes to boot. This story will knock your socks off (that first and last 100 pages). So I would say to prob grab this one from the library first or trade it etc to see if its your cup of tea. We see the MC from the first novella Taken At Dark so that was a great thing to as I was a little disappointed that this book wasn't about her.
Its big to start then slows down then speeds up. There is a love triangle but its an ok one. I think I am sooooo team Lucas!!
"All opinions are 100% honest and my own."
Buy The Book
Other Books By This Author
Disclaimer: Thanks to Goodreads and Amazon for the book cover, about the book, and author information.