Here's the official description for
The Heir
: "Twenty years ago, America Singer entered the Selection and won Prince Maxon's heart. Now the time has come for Princess Eadlyn to hold a Selection of her own. Eadlyn doesn't expect her Selection to be anything like her parents' fairy-tale love story. But as the competition begins, she may discover that finding her own happily ever after isn't as impossible as she always thought."
About the Author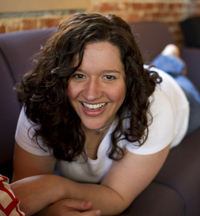 100 Things I Love:
Being married. Cake. The smell of Autumn. Motherhood. Books. Elephants. Back rubs. On demand movies. Actually going out to movies. Faith. Cinnamon rolls. My family. Butterflies. When my kitchen is clean. Crayons. Pink. Tote bags. Dancing. Organizing via color coordination. That my wedding dress was tea length, not floor. Baking. My house. Writing utensils. Paper. India. The sound of water. Making videos. Buttons. The word Episcopalian. Making people laugh. Layering clothes. British accents. Pinterest. Animation. Fireworks. The smell of the Ocean. My wedding rings. Aprons. Reasons to get dressed up. Sex. Pop music. Stars. Taking walks. Daydreaming. Stickers. School Spirit. My friends. Living in a s
mall town. Japan. Singing. Painting my toenails. Pranks/ practical jokes. Painting. Stretch canvas. Costumes. Dipping my fingers in melted wax. Style. Soda. Spending an hour typing at a coffee shop. Musicals. Back to school season. Mopeds. Good hair days. Naps. Not walking up but looking at a beautiful staircase. Driving alone. My ankles. Playlists. Spending entire days in pajamas. Holidays. Telling stories. Spontaneity. Theme parks. Bookshelves. The word copacetic. Boxes. Empty journals. Surprises. Doing things in groups. Doing things alone. Getting real mail. Decorating. Small forks. A good hug. Gift cards. New Years Goals. Going out to dinner. When someone else remembers some great story about me/us that I've forgotten. Toy stores. Fireplaces. Breakfast foods. Journaling. Crying for a good reason. Doorbells. Pointless adventures. Voting. My birthday. Reasons to make wishes. Recycling.
Facebook: https://www.facebook.com/pages/Kiera-Cass/356163161993
Twitter:
kieracass
Goodreads: https://www.goodreads.com/author/show/2987125.Kiera_Cass
Website:
http://www.kieracass.com/
OMG I Cant Wait!
So although this will not be out until May of 2015 (not happy about that one) I am very happy that the One was not the end! I can't wait to see what Cass has done. I am scared that this is set 20 years into the future. I was hoping to see how Mer and Max has changed the world with their reign. Getting rid of the chastes and moving forward for a better world. So this will be a very interesting to read.
I have already preordered my copy have you?
You can see the official report here http://shelf-life.ew.com/2014/10/23/kiera-cass-the-heir-cover-exclusive/#
That if you havent read this series then you are missing out!!!
"All opinions are 100% honest and my own."
Buy The Book
Disclaimer: Thanks to Goodreads and Amazon for the book cover, about the book, and author information.