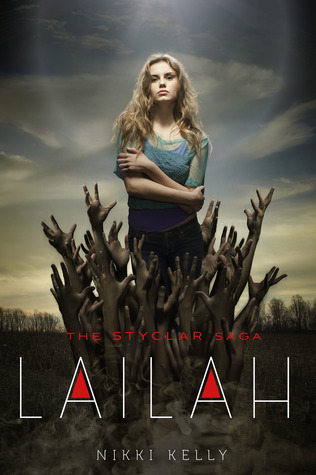 Lailah
(The Styclar Saga #1)
by
Nikki Kelly
Publisher: Feiwel and Friends
Release Date: October 7th 2014
Synopsis:
The girl knows she's different. She doesn't age. She has no family. She has visions of a past life, but no clear clues as to what she is, or where she comes from. But there is a face in her dreams – a light that breaks through the darkness. She knows his name is Gabriel.
On her way home from work, the girl encounters an injured stranger whose name is Jonah. Soon, she will understand that Jonah belongs to a generation of Vampires that serve even darker forces. Jonah and the few like him, are fighting with help from an unlikely ally – a rogue Angel, named Gabriel.
In the crossfire between good and evil, love and hate, and life and death, the girl learns her name: Lailah. But when the lines between black and white begin to blur, where in the spectrum will she find her place? And with whom?
Gabriel and Jonah both want to protect her. But Lailah will have to fight her own battle to find out who she truly is.
5 Stars
Sorry to keep this so short but were all sick here at the moment. So ill be adding another review of this in full in about a week or so. This one was creepy and amazon! A Must read!
I was born and raised only minutes away from the chocolately scent of Cadbury World in Birmingham, England. So it will probably come as no surprise that when I'm not dreaming in Vampires & Angels, I dream in chocolate! For the past ten years I have lived in West London with my hubby and two dogs, Alfie - the Pug & Goose - the Chihuahua.
LAILAH is my debut novel, and first launched in serial form to wattpad, a readers & writers community. Within just 6months, LAILAH had over a million reads and thousands of comments and votes.
Since then, The Styclar Saga has gone on to pick up a traditional deal with Feiwel & Friends, and LAILAH, the first book in the series is due for release on October 7th 2014.
These days I spend my time balancing my amazing job of writing fantasy fiction, with my other, very important role of Chocolate Connoisseur. I like to multitask and do the two together. It makes me happy.
Win (1) hardback of Lailah by Nikki Kelly (US Only)
At this time I am not going to be doing a rafflecopter for this one. So all you need to do to win is Comment below with.......Your Fav Zombie (movie, tv, or otherwise)
I will pick a winner on 14th if I don't post here let me know!!
Disclaimer: Thanks to Goodreads and Amazon for the book cover, about the book, and author information.