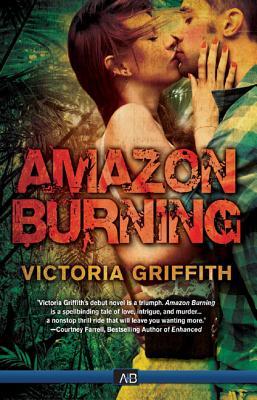 When 22-year-old aspiring journalist, Emma Cohen, is forced to flee the comforts of her NYU student life, she maneuvers an internship from her father at his newspaper in Rio de Janeiro. There, Emma is immediately swept into a major news story--and a life-threatening situation--when a famous jungle environmentalist, Milton Silva, is mysteriously murdered.Emma must now enter the Amazon rainforest with her father to investigate; both awed by the enormity and beauty of the Amazon, and appalled by its reckless destruction. Not only will Emma have to brave the primal world of the Amazon, she must fight to survive the kidnappers, villains, corrupt activists, and indigenous tribes that lay in wait along the ever-twisting trail of the murder case. Stretched to the brink, it s up to Emma, her father and the dreamy news photographer, Jimmy, to unravel the mystery and live to tell the tale. Amazon Burning by Victoria Griffith is a spectacular debut Young Adult novel. Griffith's powerful rendering of the Amazon rainforest forms the perfect, wildly exotic backdrop for this extraordinary tale of a young urban woman coming of age in the midst of intense conflict."
About the Author
Biography
Great characters, amazing plot, it will keep you on your toes until the last page. I ate it up in one day!
Go Into This One Knowing
Fast paced
"All opinions are 100% honest and my own."


a Rafflecopter giveaway
Disclaimer: Thanks to Goodreads and Amazon for the book cover, about the book, and author information.