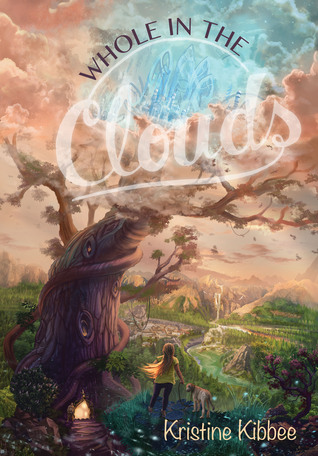 Hidden in the pages of Whole in the Clouds you will find the ticket to a fantastical new world, complete with trees that sprout children, shy unicorns, elves who move at dizzying speeds, inchworms who wear spectacles and a pudgy little girl who is magically transformed into an ethereal beauty. An unhappy orphan, Cora Catlin is a misfit at best, an outcast at worst. She feels out of place in her life, as if everything is backwards and part of her is missing. But her long, tormented hours in hum-drum Harborville take a decided turn upwards when she encounters an elfin stranger who tells of a mystical world that awaits her atop the clouds. As Cora travels to her new home by way of a magical elevator to the heavens, she finds herself and her companion physically transformed. As if an entirely new body wasn't enough to get used to, royal parentage, talking pegasus', a raging war and an alluring love interest who just happens to be the son of her father's greatest enemy await Cora as well. Exploring this new land alongside her devoted dog Motley, Cora will unearth wonders and secrets beyond her wildest imaginings. She will discover the meaning of true friendship, love and what it means to finally feel whole—Whole in the Clouds.
About the Author
Kristine Kibbee is a Pacific Northwest native with a love of language, nature, and animals. Kristine's passion for creative writing began in her early youth and led her to Washington State University, where she earned a degree with a concentration in professional writing. Kristine has since had works published in The Vancougar, The Salal Review, S/tick Literary Review, and she is a featured columnist in the nationally syndicated magazine, Just Frenchies.
From the small town of Castle Rock, Washington, nestled among 22 acres of towering fir trees, Kristine relishes time spent outdoors with her two French bulldogs and one husband. She dreams of making the everyday world more magical with her fantasy novels.
Whole in the Clouds is her first middle grade novel
Check out these Guest Posts:
I don't really feel like I ever "chose" to be a writer. I think I was born with writing in my DNA. As a child I recall cutting pictures of animals from magazines and then pasting them into books, where I'd write biographies and adventures for them. I just always had a creative vein. I always delighted in crafting stories and retelling them to eager listeners. I loved watching their faces as my tales excited, moved and entertained them. I loved the feeling of creating characters and directing their lives and experiences. I was an introverted child who was often wanting for friendship and these characters that I would create became my playmates, my confidants and my very dear companions. I feel as if writing provided me an escape to less pleasant things that were going on during my childhood and to have that power of the mind is like having a secret door to which only you hold the key.
I feel like the dreams that became the framework for Whole in the Clouds were ones that came to me very organically. I grew up in a small town where everyone knew everyone--this can be good but it can also be bad. For an "outsider" kid who came to a town full of established families that had their roots planted centuries ago, it was bad. I was generally rejected by my peers and shunned even more so for not fitting into the "normal kid" mold. This sent me retreating even more so into myself and when I did, I discovered a world of vast imagination. As I sat in noisy cafeterias, stuffy classrooms and chaotic assemblies, I dreamed of a place where all these "normal," beautiful kids who gathered around me in torment would actually look the part! And I imagined my insides reflecting my outsides, so much so that I became beautiful. When things were particularly bad and my suffering was at its peak, I'd dream that I could just fly away from all the bullies and the cheerleaders and their cruelty--I'd fly up through the clouds and as I did, I'd be stripped of all the things I hated about myself. That was the inspiration behind Whole in the Clouds and it ultimately became the story-line for the book as well.
button will auto size
Tour Schedule
Book Tour
Nov. 9-15th
November 9
Crossroad Reviews- Open of Tour
November 10
2 Bibliophiles Guide-Review
The Most A-Mazing Bookworm- Review
Cherry Mischievous- Promo
West of the Reader- Promo
November 11
Simplistic Reviews- Review
Sinamen Reads Romance-Promo
So many Books, So little time- Review
November 12
Be My Book Boyfriend- Review
Not tonight I'm reading- Review
NightWolf Book Blog- Promo
November 13
Ashley's Bookshelf- Promo
Hush Hush Revealings- Promo
Books, Books, And More Books- Review
November 14
GenGen's Book Blog- Review
Curling Up With A Good Book- Promo
November 15
Choco-Lattereader- Review
Crossroad Reviews- Review
Reader Under the Stars-Promo
Book Tour Giveaway
a Rafflecopter giveaway
Disclaimer: Thanks to Goodreads and Amazon for the book cover, about the book, and author information.