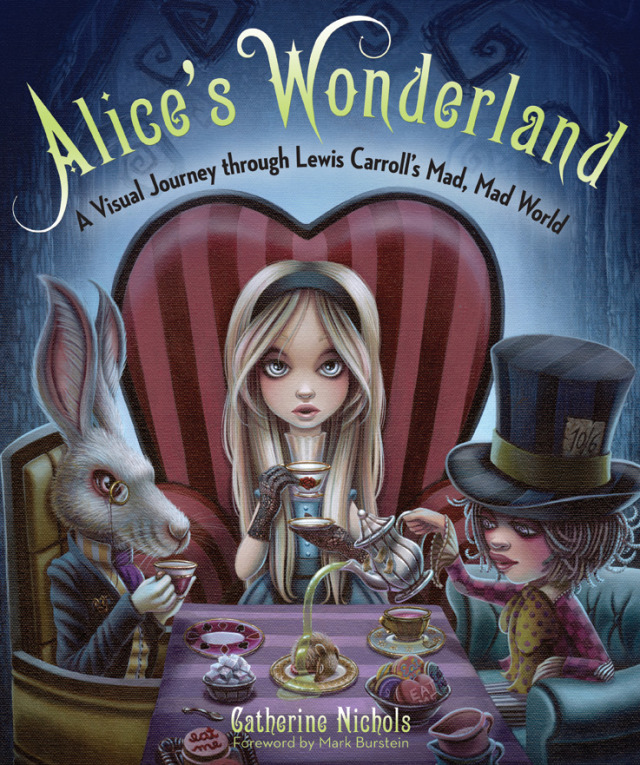 Alice's Wonderland dives down the rabbit hole and looks at the dazzling ways that Wonderland has been imagined by artists, filmmakers, writers, and more. Get a behind-the-scenes looks at how the books were created, meet Alice Liddell, the inspiration for the fictional Alice, and view the original manuscript copy of Alice in Wonderland, illustrated in Carroll's own hand. The fantastical world imagined by Charles Dodgson (aka Lewis Carroll) - where a white rabbit carries a pocket watch, a crying baby morphs into a squealing pig, and a flamingo is used as a croquet mallet - has inspired countless artists to produce some of their best work. Illustrators such as John Tenniel, chose to tackle the work directly, producing illustrations, films, and shows that strive to accurately depict Wonderland. Others, such as artist Salvador Dali and director Tim Burton, freely adapted Dodgson's creation, using it as a springboard for their own incredible interpretations. Lushly illustrated paintings, artwork, and sketches, Alice's Wonderland explores how artists in different fields like art, music, theater, film, and more have interpreted Carroll's works through the ages. A must-have book for any Alice fan.
About the Author
Biography
Are you obsessed with all things Alice in Wonderland? Well if so then this is definitely the book for you! Made for the true fan this book has everything from

behind-the-scenes info to

the original manuscript this book is a breath taking collection on all things Alice. I loved the original photos of Alice as well as other paintings and artwork.
Go Into This One Knowing
It really is the must have book for those obsessed with Alice.
"All opinions are 100% honest and my own."


Disclaimer: Thanks to Goodreads and Amazon for the book cover, about the book, and author information. If you can not see the link above you will need to turn off your spam blocker. Buying via these above links allows my site to get a % of the sale at no cost to you. This money gets used to buy items for giveaways.
Love doing your nails? Well find a new way to do it without all the smell and fuss! Jamberry nail wraps are the way to go! They are vinyl wraps that no dry time and are sold for $15 a sheet that will get you 2 manicures and 2 pedicures! And you can even buy them Buy 3 Get 1 Free!
http://crossroads.jamberrynails.net
The best part is if you buy from me I will send you a loyalty card. And when you fill it up you get free products! Want more for free? Well host a party! Its free and It can even be done online!
http://crossroads.jamberrynails.net/host/
Right now for my bookish followers I'm offering anyone who buys any Buy 3 Get 1 Free!
Gets to choose 2 books via my box!
https://www.facebook.com/CrossroadReview