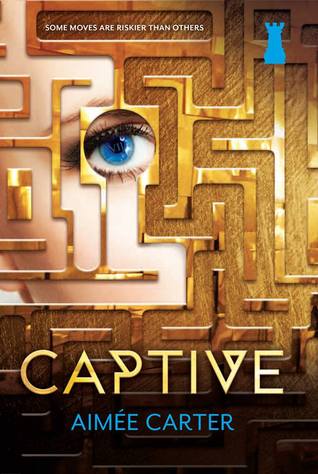 For the past two months, Kitty Doe's life has been a lie. Forced to impersonate the Prime Minister's niece, her frustration grows as her trust in her fake fiancé cracks, her real boyfriend is forbidden and the Blackcoats keep her in the dark more than ever.

But in the midst of discovering that her role in the Hart family may not be as coincidental as she thought, she's accused of treason and is forced to face her greatest fear: Elsewhere. A prison where no one can escape.

As one shocking revelation leads to the next, Kitty learns the hard way that she can trust no one, not even the people she thought were on her side. With her back against the wall, Kitty wants to believe she'll do whatever it takes to support the rebellion she believes in—but is she prepared to pay the ultimate price?
About the Author
Aimée Carter was born and raised in Michigan, where she currently resides. Her first novel for young adults, THE GODDESS TEST, will be published by Harlequin Teen on April 19th, 2011. The sequel, GODDESS INTERRUPTED, will follow in January 2012.
Find her on Twitter at
@aimee_carter
.
I really need to find out where this author is so I can get these signed!! This one was even better than book one!! Amazing Amazing!!!
This book is full of OMG O CRAP!!! RUN FOR YOUR EFFING LIFE moments that just make the book really fast! I loved it. We get a change of scenery in this one and well spoiler!!! Kitty ends up in Elsewhere!!!! OMG!!!!!! AAAAAA!!!!!
Im just saying that so you will go read this because it was AWESOME!!!!!
If you start this make sure you don't have to do anything else. Because you will not be able to put it down!!
We get a little more world building in this one. As we really get an inside look at Elsewhere. (not sure if I really wanted to know about it) But ts ok.
Go Into This One Knowing
GO READ THIS NOW!!!!
"All opinions are 100% honest and my own."


Disclaimer: Thanks to Goodreads and Amazon for the book cover, about the book, and author information. If you can not see the link above you will need to turn off your spam blocker. Buying via these above links allows my site to get a % of the sale at no cost to you. This money gets used to buy items for giveaways.
Love doing your nails? Well find a new way to do it without all the smell and fuss! Jamberry nail wraps are the way to go! They are vinyl wraps that no dry time and are sold for $15 a sheet that will get you 2 manicures and 2 pedicures! And you can even buy them Buy 3 Get 1 Free!
http://crossroads.jamberrynails.net
The best part is if you buy from me I will send you a loyalty card. And when you fill it up you get free products! Want more for free? Well host a party! Its free and It can even be done online!
http://crossroads.jamberrynails.net/host/
https://www.facebook.com/CrossroadReview