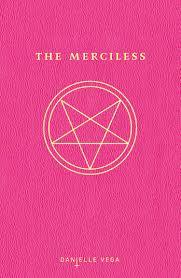 Forgive us, Father, for we have sinned
Brooklyn Stevens sits in a pool of her own blood, tied up and gagged. No one outside of these dank basement walls knows she's here. No one can hear her scream.
Sofia Flores knows she shouldn't have gotten involved. When she befriended Riley, Grace, and Alexis on her first day at school, she admired them, with their perfect hair and their good-girl ways. They said they wanted to save Brooklyn. They wanted to help her. Sofia didn't realize they believed Brooklyn was possessed.
Now, Riley and the girls are performing an exorcism on Brooklyn—but their idea of an exorcism is closer to torture than salvation. All Sofia wants is to get out of this house. But there is no way out. Sofia can't go against the other girls . . . unless she wants to be next. . . .
In this chilling debut, Danielle Vega delivers blood-curdling suspense and terror on every page. By the shockingly twisted end, readers will be faced with the most haunting question of all: Is there evil in all of us?
About the Author
Danielle Vega spent her childhood hiding under the covers while her mother retold tales from the pages of Stephen King novels. Now an adult, she can count on one hand the number of times in her life she's been truly afraid. Danielle has won numerous awards for her fiction and nonfiction, and earned a 2009 Pushcart Prize nomination for her short story "Drive." She lives in Brooklyn.
Ok so I started this before going to bed and well that was not a good idea. I ended up having nightmares about demons haha. Woke up at 5am had to pee and made my husband get up and go with me to the potty!! Yes it freaked me out that bad!!
Ok so this one centers around Sophia who is in a military family and she moves around every 6 months. Well we don't know a lot about her and well it worked out really well in this story. She is befriended by some cool girls and thats where things start going weird. Like the description says they decide that another girl is possessed by a demon/devil and decide to to an exorcism.
This book was great but in a very creepy, very deranged, kinda way. I have to say that I read it in a few hours and I'm addicted. This book starts out light and fluffy but turns dark soon after!
I can't say much about it because it will give away the story! But if you like stories about good vs. evil then this is the book for you!
Go Into This One Knowing
Love Creepy Horror Films? Then Pick this one up!
16+ Only!
"All opinions are 100% honest and my own."


a Rafflecopter giveaway
Disclaimer: Thanks to Goodreads and Amazon for the book cover, about the book, and author information. If you can not see the link above you will need to turn off your spam blocker. Buying via these above links allows my site to get a % of the sale at no cost to you. This money gets used to buy items for giveaways.
Love doing your nails? Well find a new way to do it without all the smell and fuss! Jamberry nail wraps are the way to go! They are vinyl wraps that no dry time and are sold for $15 a sheet that will get you 2 manicures and 2 pedicures! And you can even buy them Buy 3 Get 1 Free!
http://crossroads.jamberrynails.net
The best part is if you buy from me I will send you a loyalty card. And when you fill it up you get free products! Want more for free? Well host a party! Its free and It can even be done online!
http://crossroads.jamberrynails.net/host/
https://www.facebook.com/CrossroadReview