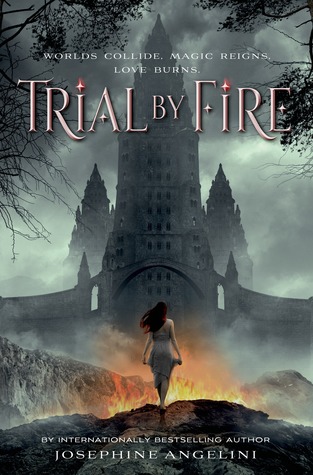 This world is trying to kill Lily Proctor. Her life-threatening allergies keep her from enjoying experiences that others in her hometown of Salem take for granted, which is why she is determined to enjoy her first high school party with her best friend and longtime crush, Tristan. But after a humiliating incident in front of half her graduating class, Lily wishes she could just disappear.
Suddenly, Lily is in a different Salem—one overrun with horrifying creatures and ruled by powerful women called Crucibles. Strongest and cruelest of them all is Lillian . . . Lily's other self in this alternate universe.
What makes Lily weak at home is what makes her extraordinary in New Salem. In this confusing world, Lily is torn between responsibilities she can't hope to shoulder alone and a love she never expected.
About the Author
Josephine Angelini is the internationally bestselling author of the Starcrossed series, and a graduate of New York University's Tisch School of the Arts in theater, with a focus on the classics. Originally from Massachusetts, she now lives in Los Angeles with her screenwriter husband and three shelter cats.
If one day it came out that Josephine Angelini could hop realities and that was where she got all her stories. I have to say that I wouldn't be surprised at all! She can weave a story like no other. She is one of my favorite authors and for good reason. Her stories grip your heart and you feel everything her characters feel. Trial by Fire is no different!
This one drew me into the story of Lily and her afflictions and didnt let me go until the last page. I loved how both worlds were different but the same. As well as how Lily and Lillian acted. They are both awesome characters. I also loved how we know that Lillain saw something that made her the way she is. But we just don't know what that is. I felt like I wanted to kidnap her to find out!!
The story and world building were amazing! We get bits and pieces of the story and the world as the story progresses. I have to say that Angelini did a wonderful at giving us a real look inside this new world. Without over whelming us with everything (ie. without making it confusing)!
She also did a wonderful job explaining physics in a down to earth easy way. Again making it so we the reader could understand and follow along without making it feel like we needed to go look up what she was talking about (is she a teacher?)
The characters were awesome with some great dialogue. They each had their own voices and didnt mesh at all. If someone was talking you KNEW who it was! And to tell you the truth I would prob know which world they had come from to! They were that spot on with each character!
I really can't wait to find out what happens next!
So if you are looking for an in-depth story that is both serious but funny at times. (PICKLE! Ya you have to read it to find out about that one!)
So what didnt I like? Well the only thing I didnt like was that STINKING KILL ME, STAB ME IN THE HEART, SHATTER MY WILLSTONES CLIFFHANGER!!!
Book two doesn't come out until Sept. of this year and I am REALLY hoping to get some sort of ARC.
Go Into This One Knowing
MAJOR KILL ME Cliffhanger! No love triangle, no insta-love.
"All opinions are 100% honest and my own."


Disclaimer: Thanks to Goodreads and Amazon for the book cover, about the book, and author information. If you can not see the link above you will need to turn off your spam blocker. Buying via these above links allows my site to get a % of the sale at no cost to you. This money gets used to buy items for giveaways.
Love doing your nails? Well find a new way to do it without all the smell and fuss! Jamberry nail wraps are the way to go! They are vinyl wraps that no dry time and are sold for $15 a sheet that will get you 2 manicures and 2 pedicures! And you can even buy them Buy 3 Get 1 Free!
http://crossroads.jamberrynails.net
The best part is if you buy from me I will send you a loyalty card. And when you fill it up you get free products! Want more for free? Well host a party! Its free and It can even be done online!
http://crossroads.jamberrynails.net/host/
https://www.facebook.com/CrossroadReview