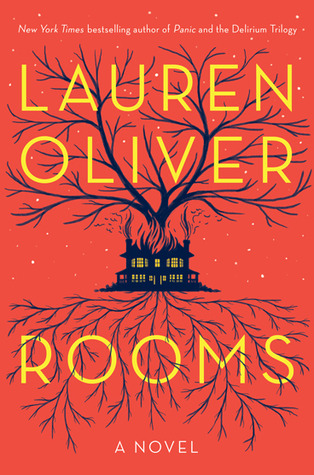 The New York Times bestselling author of
Before I Fall
and the
Delirium
trilogy makes her brilliant adult debut with this mesmerizing story in the tradition of
The Lovely Bones, Her Fearful Symmetry, and The Ocean at the End of the Lane
—a tale of family, ghosts, secrets, and mystery, in which the lives of the living and the dead intersect in shocking, surprising, and moving ways
Wealthy Richard Walker has just died, leaving behind his country house full of rooms packed with the detritus of a lifetime. His estranged family—bitter ex-wife Caroline, troubled teenage son Trenton, and unforgiving daughter Minna—have arrived for their inheritance.
But the Walkers are not alone. Prim Alice and the cynical Sandra, long dead former residents bound to the house, linger within its claustrophobic walls. Jostling for space, memory, and supremacy, they observe the family, trading barbs and reminiscences about their past lives. Though their voices cannot be heard, Alice and Sandra speak through the house itself—in the hiss of the radiator, a creak in the stairs, the dimming of a light bulb.
The living and dead are each haunted by painful truths that will soon surface with explosive force. When a new ghost appears, and Trenton begins to communicate with her, the spirit and human worlds collide—with cataclysmic results.
Elegantly constructed and brilliantly paced, Rooms is an enticing and imaginative ghost story and a searing family drama that is as haunting as it is resonant.
About the Author
Biography
Dysfunctional family abounds in this new book by Lauren Oliver. They really make my family look sane. This book was on the weird end as the residence ghosts watch everything unfold. It starts out with someone talking about burning down their house and dying. Then switches to two ghosts talking about where the resident is going to die. It was very very weird after that.
There are like 6 POVs in this book all in different tenses. At times it was confusing but I got through it. Just make sure to pay attention. There is also a lot of backstory though out this book. Which really slowed it down. It was also somewhat boring in parts.
All in all if you like this kind of thing then check it out. If not pass it by.
Go Into This One Knowing
Weird!
"All opinions are 100% honest and my own."


a Rafflecopter giveaway
Disclaimer: Thanks to Goodreads and Amazon for the book cover, about the book, and author information. If you can not see the link above you will need to turn off your spam blocker. Buying via these above links allows my site to get a % of the sale at no cost to you. This money gets used to buy items for giveaways.
Love doing your nails? Well find a new way to do it without all the smell and fuss! Jamberry nail wraps are the way to go! They are vinyl wraps that no dry time and are sold for $15 a sheet that will get you 2 manicures and 2 pedicures! And you can even buy them Buy 3 Get 1 Free!
http://crossroads.jamberrynails.net
The best part is if you buy from me I will send you a loyalty card. And when you fill it up you get free products! Want more for free? Well host a party! Its free and It can even be done online!
http://crossroads.jamberrynails.net/host/
https://www.facebook.com/CrossroadReview