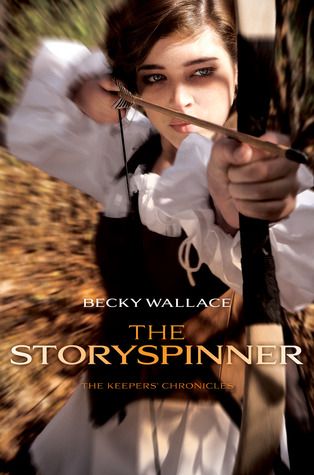 Drama and danger abound in this fantasy realm where dukes play a game for the throne, magical warriors race to find the missing heir, and romance blossoms where it is least expected.

In a world where dukes plot their way to the throne, a Performer's life can get tricky. And in Johanna Von Arlo's case, it can be fatal. Expelled from her troupe after her father's death, Johanna is forced to work for the handsome Lord Rafael DeSilva. Too bad they don't get along. But while Johanna's father's death was deemed an accident, the Keepers aren't so sure.

The Keepers, a race of people with magical abilities, are on a quest to find the princess—the same princess who is supposed to be dead and whose throne the dukes are fighting over. But they aren't the only ones looking for her. And in the wake of their search, murdered girls keep turning up—girls who look exactly like the princess, and exactly like Johanna.

With dukes, Keepers, and a killer all after the princess, Johanna finds herself caught up in political machinations for the throne, threats on her life, and an unexpected romance that could change everything.
About the Author
Biography
The cover doesn't do this one justice. This one has a one of a kind tale about how the kingdom on the other side of some wall will fall if this necklace thing isn't given to the next person in line. And now that person is in jeopardy. It kinda flips all over the place for this one and is in multi POVs but the author did a wonderful job keeping everything easy to understand and follow. So don't be scared when things start switching up. Because, you won't get lost.
The characters were great they all felt fully formed and complete. They do have some areas where each one can grow. But, they really played with the story well.
The plot and story itself was really good to. And the different POVs but although you won't get lost I think the story would have been a knock out 5 star one if the POVs would have been cut off at about 3-4 instead of the 6 that are in this book. At times it slows the story down. I don't really need to know what everyone is thinking.
This is a great new fantasy that is deff worth the read. Its a little slower than most others of its kind. But with a new tale its deff something to pick up.
Go Into This One Knowing
Mulit POVs, a little slow at times.
"All opinions are 100% honest and my own."


a Rafflecopter giveaway
Disclaimer: Thanks to Goodreads and Amazon for the book cover, about the book, and author information. If you can not see the link above you will need to turn off your spam blocker. Buying via these above links allows my site to get a % of the sale at no cost to you. This money gets used to buy items for giveaways.
https://www.facebook.com/CrossroadReview