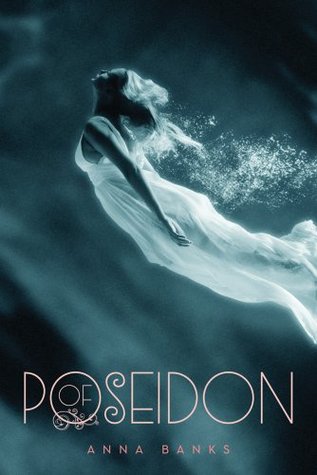 Galen is the prince of the Syrena, sent to land to find a girl he's heard can communicate with fish. Emma is on vacation at the beach. When she runs into Galen—literally,
ouch!
—both teens sense a connection. But it will take several encounters, including a deadly one with a shark, for Galen to be convinced of Emma's gifts. Now, if he can only convince Emma that she holds the key to his kingdom...
Told from both Emma and Galen's points of view, here is a fish-out-of-water story that sparkles with intrigue, humor, and waves of romance.
About the Author
Biography
Anna Banks is a young adult author whose primary goal is to entertain smart, funny gals like herself. You can expect her works to be centered around a love story, freckled with humor, and seasoned with sarcasm.


Anna grew up in a small town called Niceville (yes, really) in the Florida Panhandle. She now lives with her husband and daughter close to her hometown. The youngest of seven children, she was spoiled beyond comprehension growing up. Before she started writing, Anna worked as a banker and a waitress. She loves old movies, fried chicken, and Simon Cowell, but loathes exercise, licorice, and haters.

She also spews sarcastic, romantic fiction under pen name Anna Scarlett.
I forgot how much I LOVE this book. Although knowing the ending kinda made me feel like WTF why didnt I guess that before! I guess you kinda read blind when you first read a book.
This one is unlike any mermaid book I've read. Its a great blend of romance, mystery, danger, and more. I really can't wait to have the time to read the rest of this series. And I still need to get book three signed. (So sharpie assassin if your reading this I need to get book three signed hahahahaha)
I know shut up Jessica it wasn't that funny.
This book drips with secrets of the deep. And it makes the book a very fast read. I remember the first time I read this I did so in like a day. The beginning of this book is so out there and so good it makes you say what? As soon as your done lol.
Of Poseidon is so tantalizing, sensual, mysterious, and sometimes even a little creepy that you so need to read this if you haven't.
Go Into This One Knowing
KILLER Cliffhanger that I wonder why I didnt see it coming the first time around.
"All opinions are 100% honest and my own."


Giveaway is for a ton of Anna Banks swag via this series that I have. Most of it is all signed to!!
a Rafflecopter giveaway
Disclaimer: Thanks to Goodreads and Amazon for the book cover, about the book, and author information. If you can not see the link above you will need to turn off your spam blocker. Buying via these above links allows my site to get a % of the sale at no cost to you. This money gets used to buy items for giveaways.
https://www.facebook.com/CrossroadReview