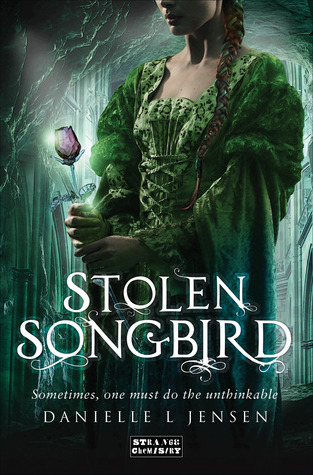 For those who have loved
Seraphina
and
Graceling
comes another truly fabulous fantasy...
For five centuries, a witch's curse has bound the trolls to their city beneath the ruins of Forsaken Mountain. Time enough for their dark and nefarious magic to fade from human memory and into myth. But a prophesy has been spoken of a union with the power to set the trolls free, and when Cécile de Troyes is kidnapped and taken beneath the mountain, she learns there is far more to the myth of the trolls than she could have imagined.
Cécile has only one thing on her mind after she is brought to Trollus: escape. Only the trolls are clever, fast, and inhumanly strong. She will have to bide her time, wait for the perfect opportunity.
But something unexpected happens while she's waiting – she begins to fall for the enigmatic troll prince to whom she has been bonded and married. She begins to make friends. And she begins to see that she may be the only hope for the half-bloods – part troll, part human creatures who are slaves to the full-blooded trolls. There is a rebellion brewing. And her prince, Tristan, the future king, is its secret leader.
As Cécile becomes involved in the intricate political games of Trollus, she becomes more than a farmer's daughter. She becomes a princess, the hope of a people, and a witch with magic powerful enough to change Trollus forever.
About the Author
Biography
Danielle was born and raised in Calgary, Canada. At the insistence of the left side of her brain, she graduated in 2003 from the University of Calgary with a bachelor's degree in finance. But the right side of her brain has ever been mutinous; and in 2010, it sent her back to school to complete an entirely impractical English literature degree at Mount Royal University and to pursue publication. Much to her satisfaction, the right side shows no sign of relinquishing its domination.
How I waited so long to read this is beyond me! Well I finally took the plunge and read it and OMG it was amazing! This one starts out with out main character preforming (singing) and she is getting ready to go to the big city to live with her estranged mother who is also a singer. But, the tables turn when she is kidnapped, sold, and wed to the trolls that live under the mountain. Where they can't leave because they have been cursed.
Well I have to say that this one blew me away. It made me laugh, cry, and sometimes scream
NOOOOO!!!!!!
For one thing I have to say it says that this is for fans of

Seraphina

and

Graceling

I havent read Graveling but I have read Seraphina and well this one is so much better than that one.
This is deff one author who knows how to rip your heart out! By the end of this book I was in tears, crying my eyes out trying to figure out how I could get book two before its release in June! JUNE I am going to die if I have to wait until JUNE!!!
This was a prefect blend of romance, mystery, twists, and turns, and an ending that will rip your little heart out and feed it to the fey. I do have to say that I loved the one twist toward the end. If you loved the Iron Fey series then this is deff the book for you!
It was easy to follow and you won't get confused at all. Even with all the weird names. Its in two POV's
Cécile's and Tristan's however we get more of
Cécile.
The story is just so well done that you get a lot of world building all under the mountain and by the end you don't want to leave.
I also have to say that I loved the magic in this one to. The two different kinds were great in their own ways. And have I said that I still need book two like NOW!!
Go Into This One Knowing
No instal-live, KILLER CLIFFHANGER!
"All opinions are 100% honest and my own."


a Rafflecopter giveaway
Disclaimer: Thanks to Goodreads and Amazon for the book cover, about the book, and author information. If you can not see the link above you will need to turn off your spam blocker. Buying via these above links allows my site to get a % of the sale at no cost to you. This money gets used to buy items for giveaways.
https://www.facebook.com/CrossroadReview