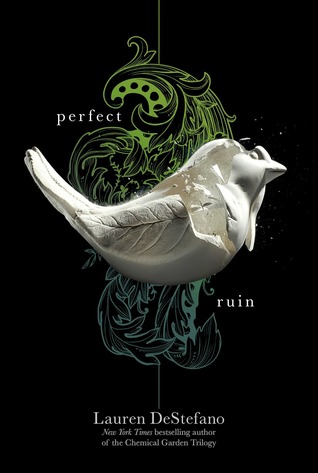 On the floating city of Internment, you can be anything you dream, unless you approach the edge. Morgan Stockhour knows getting too close can lead to madness, like her older brother Lex, a Jumper. She takes solace in her best friend Pen, and in Basil, the boy she's engaged to marry. When she investigates the first murder in a generation, she meets Judas. The suspect was betrothed to the victim, but Morgan believes he is innocent. Nothing can prepare Morgan for the secrets she will find – or whom she will lose.
About the Author
Biography
On a side note I kinda love the UK cover vs. the org. hardback and the paperback ones!
Ok so this is the second time I have read this book. This time around it was so I could read book two. Burning Kingdoms (review will post tomorrow). My review for this one has slightly changed from the first time I read it. It was a little slower this time. The first time I read this I felt that it was very fast paced. But this second time around it felt a lot slower. Other than that it was still a great story.
I have to say that I have recently read a book called Magonia and it has much in common with this one. From a world above the ground etc. But where that one ended up being wierd this one brings a new world to your eyes!
I thought this one also had elements of The Giver. Not just the fact that Morgan is much like Jonas but also about how their world works. From twins being put to death to you only being able to live to the age of 65 and more.
This is a wonderful story and adventure.
Go Into This One Knowing
Wonderful world building, no love triangle, no insta love, great story
Below is my review from last year:
Ok now im mad! The reason is I now have to wait an entire year to find out what happens next! This book reminds me of another like it called Revelations by Jessica Souders as well as Breathe by Sarah Crossan. Where they are trying to escape their worlds.
In the short I LOVED IT! I read it in a day and I so want to read more!! I hope to get an ARC of book two way sooner than a year from now! But, at least I have other stories to keep my company until then.
I love how much time Destefano took in creating this new world that hangs in the sky. It didnt bog down the story and it really made you think about what the characters are going through. I would be one on the ship no doubt! I have always wanted to travel the world. I loved all the characters especially Basil whose love is unyielding even after all the world goes to crap!
I think it would be interesting to know when you were going to die like they do in this story. That you are born you are married off and you know who you are going to be married to at a young age. Then you do what you can for your trade and then you are basically killed off. All in around 80 years or so.
It would also be interesting to know who you are going to marry. With them being in 10th grade they already know. It would be neat to form ties that young. I think in some cases it would form bonding relationships. The only sucky thing is if your betrothed dies then you are stuck being along FOREVER and well thats just not cool. That I couldnt live with at all.
Ok so this one is a big giantic 5 stars for me! Now to hunt down a finished signed copy!
"All opinions are 100% honest and my own."


Disclaimer: Thanks to Goodreads and Amazon for the book cover, about the book, and author information. If you can not see the link above you will need to turn off your spam blocker. Buying via these above links allows my site to get a % of the sale at no cost to you. This money gets used to buy items for giveaways.
https://www.facebook.com/CrossroadReview