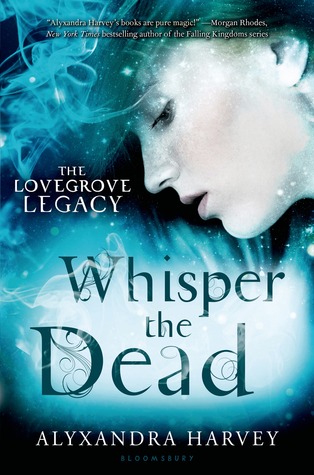 Cousins Gretchen, Emma, and Penelope are all dealing with what it means to be a Lovegrove. For Gretchen, it means she often feels like her head is going to explode. As a Whisperer, Gretchen constantly hears the whispers of other witches' spells. And while this does help her to know when one of her own spells is going wrong, the incessant buzzing and pain the whispers cause makes it difficult to use her gift.

But when something evil begins to menace Mayfair, Gretchen must find a way to master her power. Along with her cousins, a madcap named Moira, and the icy yet irresistible Tobias Lawless, Gretchen faces deadly threats and unimaginable loss in the hopes of preventing the terrible Greymalkin Sisters from rising again.

The second book in The Lovegrove Legacy trilogy, Whisper the Dead will leave readers spellbound.
About the Author
Biography
I am in love with Alyxandra Harvey! (if your reading this I hope thats ok) I have been pagan for over 20 years and I keep reading books about witches etc. And every time they muck crap up!! I am very happy that Harvey didnt do this!! She did her homework and well it really makes me happy. One of the funniest things said in this book was when Gretchen is talking about using a pendulum. It goes Clockwise or Counterclockwise for your answers. But then she goes into saying that her teacher called it Sunwise and Widdershins because, witches have to make everything complicated. I LOVE IT!!! I laughed so hard my husband was trying to figure out what was going on.
(Sorry you would have to be a witch to prob get that)
Anyhoo, I really love Gretchen. I really loved this book more than book one. Gretchen is such a lovable character and I think should would have been fine in the world today. She is a no nonsense girl who knows what she wants to do and does it no matter if its proper or not. hehe
We get some more world building in this one to. I love how the author is opening up the world a little at a time. It makes it so that the world is not overwhelming.
The love interest I kinda pegged right off the bat. But that was fine. I was very happy to learn more about Tobias and Moria. And I really hope for a book three!
Go Into This One Knowing
Fast Paced and Awesome!!
"All opinions are 100% honest and my own."


Disclaimer: Thanks to Goodreads and Amazon for the book cover, about the book, and author information. If you can not see the link above you will need to turn off your spam blocker. Buying via these above links allows my site to get a % of the sale at no cost to you. This money gets used to buy items for giveaways.
Love doing your nails? Well find a new way to do it without all the smell and fuss! Jamberry nail wraps are the way to go! They are vinyl wraps that no dry time and are sold for $15 a sheet that will get you 2 manicures and 2 pedicures! And you can even buy them Buy 3 Get 1 Free!
http://crossroads.jamberrynails.net
The best part is if you buy from me I will send you a loyalty card. And when you fill it up you get free products! Want more for free? Well host a party! Its free and It can even be done online!
http://crossroads.jamberrynails.net/host/
https://www.facebook.com/CrossroadReview