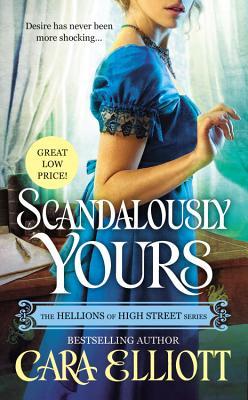 Proper young ladies of the
ton
-especially ones who have very small dowries-are not encouraged to have an interest in intellectual pursuits. Indeed, the only thing they are encouraged to pursue is an eligible bachelor. So, the headstrong Sloane sisters must keep their passions a secret. Ah, but secret passions are wont to lead a lady into trouble . . .
SCANDALOUSLY YOURS
The eldest of the three Sloane sisters, Olivia is unafraid to question the boundaries of Society-even if it does frequently land her in trouble. Disdaining the glittery world of balls and courtship, Olivia prefers to spend her time writing fiery political essays under a pseudonym for London's leading newspaper. But when her columns attract the attention of the oh-so-proper Earl of Wrexham, Olivia suddenly finds herself dancing on the razor's edge of scandal. With the help of her sisters, she tries to stay one step ahead of trouble . . .
However, after a series of madcap misadventures, Wrexham, a former military hero who is fighting for social reform in Parliament, discovers Olivia's secret. To her surprise, he proposes a temporary alliance to help win passage of his bill. Passion flares between them, but when a political enemy kidnaps the earl's young son, they must make some dangerous decisions . . . and trust that love will conquer all.
About the Author
Biography
This one was yummy and I so have to get a finished copy of it. These three sisters are wonderful and won't take no for an answer. I really think that if some of these people would see us now they would prob drop dead. From a time when it was scandalous to just show your ankles or be alone with a man if you were unwed. This wonderful historical romance brings us three sisters that want to do more than just get married.
Go Into This One Knowing
It was a fun ride and I can't wait for the next one. Fast paced and very Yummy.
"All opinions are 100% honest and my own."


a Rafflecopter giveaway
Disclaimer: Thanks to Goodreads and Amazon for the book cover, about the book, and author information. If you can not see the link above you will need to turn off your spam blocker. Buying via these above links allows my site to get a % of the sale at no cost to you. This money gets used to buy items for giveaways.
https://www.facebook.com/CrossroadReview