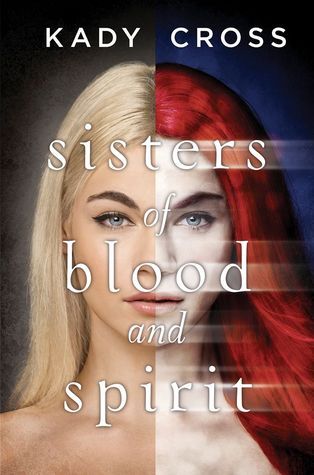 Wren Noble is dead—she was born that way. Vibrant, unlike other dead things, she craves those rare moments when her twin sister allows her to step inside her body and experience the world of the living.
Lark Noble is alive but often feels she belongs in the muted Shadow Lands—the realm of the dead. Known as the crazy girl who talks to her dead sister, she doesn't exactly fit in with the living, though a recent suicide attempt and time in a psych ward have proved to her she's not ready to join her sister in the afterlife.
Now the guy who saved Lark's life needs her to repay the favor. He and his friends have been marked for death by the malevolent spirit of a vicious and long-dead serial killer, and the twins—who should know better than to mess with the dead—may be their only hope of staying alive.
About the Author
In her other life, Kady Cross is a USA TODAY bestselling author of over 20 books. She lives with her husband who shares her love for the slightly twisted and all things geek, and a houseful of cats with whom she shares all her secrets. When not writing, she's either trying to create the perfect lip gloss or teaching herself to solder. She has a weakness for all things girlie, sugar skulls and boots. Her love of books and makeup borders on addiction. Visit her at www.kadycross.com.
This one was great!! Kinda reminded me of what the tv show Supernatural would be if the brothers were twins and one was dead but still round. Which who knew that would work out so well!! Im excited to see what book two has in store for us with these sisters. Its a great new spin on ghosts/paranormal stories. I really liked what Cross did with new series and I have to say that she blew me away with her first one and well this one will be added to my shelf.
Ok so the characters. I really liked how each sister was different but the same. Even in some chapters each sister when they are apart say the same thing. It was great. The side characters were good to. Everyone had their own tone and it worked really well.
The setting of course was our world so no surprises there. As for the plot itself I really loved it. I have to say that I feel for Wren and Lark I have been pagan for over 20 years and well I was always the one that people online etc would come to when they had ghost issues. So I definitely know how they felt. It both sucks and doesn't suck to help those in need when its something in the category of the unknown.
The romance in this is great there are two of them. Wren's I really hope it turns out well. With her being a ghost I could see how that could really get in the way of it. So heres hoping that she finds someone. Lark's is really sweet. I love that Ben is so open to her. And I loved the big secret he was carrying around it was so cute.
I really really can't wait for book 2~!!!
Go Into This One Knowing
No cliffhanger, LOTS of mystery, a few twists, no love triangle

PS. what their mom and dad did was crap if you ask me!!! And I also have to say that I LOVED NAN!!! She is an awesome and amazing lady!!
"All opinions are 100% honest and my own."


a Rafflecopter giveaway
Disclaimer: Thanks to Goodreads and Amazon for the book cover, about the book, and author information. If you can not see the link above you will need to turn off your spam blocker. Buying via these above links allows my site to get a % of the sale at no cost to you. This money gets used to buy items for giveaways.
https://www.facebook.com/CrossroadReview