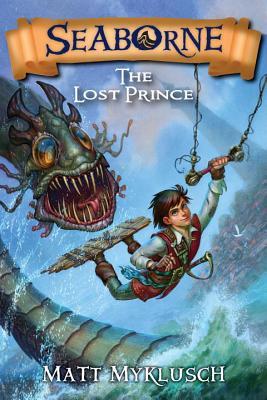 Middle-grade adventure readers will love this fresh take on classic pirate tropes. Fans of Percy Jackson and The Chronicles of Egg will enjoy Dean Seaborne's adventures on the sea.
Dean Seaborne is thrown off his ship by the Pirate King and given one last chance to redeem himself before he meets Davy Jones's locker. He has to spy on the Pirate King's biggest rival, Gentleman Jack Harper, and find the treasure hidden on the mysterious island of Zenhala.
Once on Zenhala, Dean finds that the inhabitants of the island think he is the lost prince who went missing 13 year ago. In order to fulfill his mission for the Pirate King, Dean undergoes intense and fantastical trials to prove he is the lost prince. But the longer Dean stays on the island, the more he questions his mission.

About the Author
Matt has been drawing ever since he could first hold a pencil, and super heroes have always filled up the majority of the pages in his sketchbooks. That lifelong love of comic books spurred him to write the Jack Blank Adventure trilogy, published by Simon & Schuster's Aladdin imprint. All three books: THE ACCIDENTAL HERO (2010), THE SECRET WAR (2011), and THE END OF INFINITY (2012) are in stores now.
Matt's new series, SEABORNE, will be published by Egmont USA. Book 1, THE LOST PRINCE is slated for a spring 2015 release.
Prior to writing full-time, Matt worked at MTV Networks for nearly ten years and was involved in everything from booking and producing celebrity interviews, to helping launch mtvU (MTV's 24-hour college network), to managing Spring Break events in Panama City Beach, Cancun, and Acapulco. He also worked on several less exciting projects as well.
Matt lives in New Jersey with his wife and family, where he is hard at work on his next book.
This one was AWESOME! I couldn't put it down. Its got everything a book needs to get boys and girls reading. From villains to monsters to vivid settings this one will have you reading all night long under the covers with a flashlight.
Go into this one knowing
You won't be able to put it down!
"All opinions are 100% honest and my own."


a Rafflecopter giveaway
Disclaimer: Thanks to Goodreads and Amazon for the book cover, about the book, and author information.