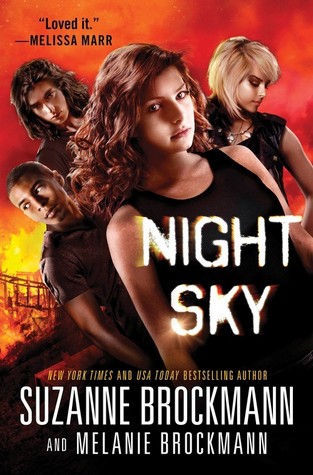 SHE'S THE ULTIMATE WEAPON IN FIGHTING DESTINY.
New York Times and USA Today bestselling author Suzanne Brockmann and her daughter Melanie Brockmann have written a pulse-pounding novel of paranormal suspense set in a near future both fantastic and frightening.

Skylar Reid is shaken when Sasha, the little girl she babysits, is kidnapped. Scared that the weird dreams she's been having about Sasha are real—and even more afraid that Sasha is already dead. When a mysterious girl with extreme butt-kicking abilities roars into town on a motorcycle and, well, stalks Skylar things get even weirder. Supergirl Dana tells Sky that she also has abilities – that a hormone in their blood makes them stronger, faster, smarter. A hormone that the makers of a new drug called Destiny will murder to get their hands on.
Dana and Milo, her dangerously hot yet oh-so-forbidden partner in crime, want Sky to join them in their mission – to mold Sky into the ultimate weapon. She can sense there's something about her abilities they're not telling her. But the only way to save Sasha and stop other girls from being taken is to embrace the weird…and fight Destiny.
About the Author
Biography
Suz Brockmann is the award-winning author of over fifty books, and is widely recognized as one of the leading voices in romantic suspense. Her work has earned her repeated appearances on the New York Times bestseller list, as well as numerous awards, including Romance Writers of America's #1 Favorite Book of the Year and two RITA awards.

Married to author Ed Gaffney, Suz divides her time between Sarasota, Florida; Boston, Massachusetts and New York City. They have two grown children, Melanie, who is a personal trainer and a writer, and Jason, who is an actor and tap dancer, and two miniature schnauzers, C.K. Dexter-Haven and Little Joe, both of whom (unlike Mel and Jason) still live at home.

Suz is a proud member of PFLAG -- Parents, Families and Friends of Lesbians and Gays. She is also a card-carrying member of the American Civil Liberties Union, the Human Rights Campaign, and MassEquality. A firm believer in civil rights for all people, she has fought hard to bring equal marriage rights to all citizens of her home state, Massachusetts.

Suz also recently produced her first independent feature-length movie, a romantic comedy called THE PERFECT WEDDING, that she co-wrote with her husband Ed and her son Jason. The Perfect Wedding will be released on DVD from Wolfe Releasing in December 2013 (and is available here on Amazon). (Find out more at www.ThePerfectWeddingMovie.com)

Suz has also co-written a YA novel called NIGHT SKY--set in the world of her paranormal Fighting Destiny series--with her daughter, Melanie, set to be released by Sourcebooks Fire in October 2014.

Visit Suz's Website at www.SuzanneBrockmann.com
Find her on Facebook at www.facebook.com/SuzanneBrockmannBooks
Follow her on Twitter @SuzBrockmann
This one just didnt work out for me. The writing was weird, the story fell flat and well I won't even get started on the characters. So poo I really was looking forward to loving this book. Now I'm sad.
Go Into This One Knowing
meh.
"All opinions are 100% honest and my own."


a Rafflecopter giveaway
Disclaimer: Thanks to Goodreads and Amazon for the book cover, about the book, and author information. If you can not see the link above you will need to turn off your spam blocker. Buying via these above links allows my site to get a % of the sale at no cost to you. This money gets used to buy items for giveaways.
https://www.facebook.com/CrossroadReview