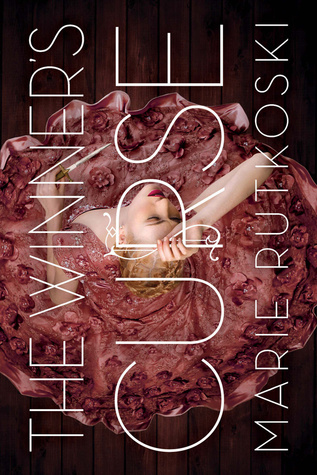 Winning what you want may cost you everything you love...

As a general's daughter in a vast empire that revels in war and enslaves those it conquers, seventeen-year-old Kestrel has two choices: she can join the military or get married. But Kestrel has other intentions.

One day, she is startled to find a kindred spirit in a young slave up for auction. Arin's eyes seem to defy everything and everyone. Following her instinct, Kestrel buys him—with unexpected consequences. It's not long before she has to hide her growing love for Arin.

But he, too, has a secret, and Kestrel quickly learns that the price she paid for a fellow human is much higher than she ever could have imagined.

Set in a richly imagined new world, The Winner's Curse by Marie Rutkoski is a story of deadly games where everything is at stake, and the gamble is whether you will keep your head or lose your heart.
About the Author
Marie Rutkoski is the author of The Kronos Chronicles, including
The Cabinet of Wonders
and
The Celestial Globe
.
The Cabinet of Wonders
, her debut novel, was named an Indie Next Kids' List Great Read and a Bank Street Best Children's Book of the Year, among other honors. Rutkoski grew up in Bolingbrook, Illinois (a suburb of Chicago), as the oldest of four children. She attended the University of Iowa, where she took Writers' Workshop classes and studied with Pulitzer Prize-winner James Alan McPherson. After graduating, she lived in Moscow and Prague. Upon receiving her Ph.D. from Harvard University, she held dual appointments as a lecturer there in both English and American Literature and Language, and History and Literature. Rutkoski is currently a professor at Brooklyn College, where she teaches Renaissance Drama, children's literature and creative writing. She lives in New York City with her husband and cat.
I know I'm going to be shot for this. This is one of the best books for some people. But for me I did like it but didnt OMG SCREAMING LOVE IT. I thought it was a pretty good book but I think the story could have been more higher end YA vs. the lower end that it was.
I loved the fact that for a chance women had a choice in the matter on what they did. Even if it was only two choices they had. It was kinda better than nothing at all.
The characters in this one were ok at best for me. I did like them but I thought that the writing needed to be upgraded just a little in terms of age group. I felt at times that I was reading a high middle grade vs. a teen book that dealt with people going into the military or being married by the time they were I think 18 (sorry its been a while since I've read this)
The story was great and I can't wait to see what happens in book two and three. It will be this time next year before I get those. But this was worth the read. And of course I will be keeping my copy.
I really liked the power struggle between the people. It felt very real.
Go Into This One Knowing
Felt middle grade at times, fast paced story, ok characters.
"All opinions are 100% honest and my own."
If you can not see the link below please check your javascript and spam blocker









Disclaimer: Thanks to Goodreads and Amazon for the book cover, about the book, and author information. If you can not see the link above you will need to turn off your spam blocker. Buying via these above links allows my site to get a % of the sale at no cost to you. This money gets used to buy items for giveaways.
https://www.facebook.com/CrossroadReview