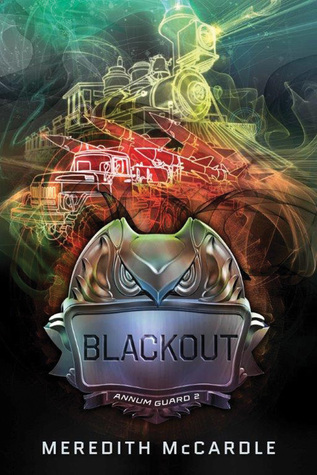 Seventeen-year-old Amanda Obermann (code name: Iris) has more on her mind than usual. As a member of a covert government organization called the Annum Guard, which travels through time to keep history on track, Iris has been getting some particularly stressful assignments. Plus, Jane Bonner, the Guard's iron-fisted new leader, seems determined to make life as hard as possible. Thankfully, Iris has Abe (code name: Blue), her boyfriend and fellow Guardian, who listens to her vent—and helps her cope with her mentally ill mother's increasingly erratic behavior.
When Guardians start to disappear on their assignments, Iris makes a terrifying discovery: a "blackout" squad is targeting anyone who gets in the way of a corrupt force that's selling out both the Annum Guard's missions and Guardian lives. Together, Iris and Blue must go undercover to untangle the Guard's elaborate web of secrets and lies. But when Iris discovers that the terrible truth may involve her own father, a former Guardian undone by his own greed, she must decide how much she's willing to risk to rescue her friends…and how dangerous the consequences will be for all of humanity.
A thrilling time-traveling adventure that spans from Abraham Lincoln's assassination to the Cuban Missile Crisis and back to the present day, this pulse-pounding sequel to The Eighth Guardian reveals that playing with time can turn into a deadly game.
About the Author
Biography
The ending to this will kill you! Ok you have been warned.
I thought I had book one to this and then found out that I didn't. Well I have since ordered it so I could read that one and then read this one again. OMG this one was so good. Even without reading book one I wasn't to lost. A friend had read book one so if I had questions I just asked her. So this one was AMAZING!!!
Time-Travel at its best is what I have to describe this book as. This book has it all great character form, wonderful fast paced story, some great world building, action, and a cliffhanger that WILL KILL YOU!!!
This would be a great time travel scifi book for those in grades 8 and up. I don't think someone under that would understand most of the situation.
The characters is what makes this book so good. Iris was such a great one that she just leaps off the page. And the other members of the Annum Guard are just as awesome. I don't want to give anything away. (so hard) But again this is one of the best time travel books I've read in some time!!! So just read it and you will love it and well you might want to make sure to have book three on hand. So that killer ending doesn't hurt so bad.
Go Into This One Knowing
The ending to this will kill you! Ok you have been warned.
"All opinions are 100% honest and my own."





Disclaimer: Thanks to Goodreads and Amazon for the book cover, about the book, and author information. If you can not see the link above you will need to turn off your spam blocker. Buying via these above links allows my site to get a % of the sale at no cost to you. This money gets used to buy items for giveaways.
https://www.facebook.com/CrossroadReview