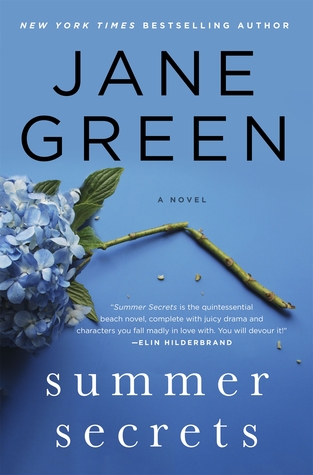 Jane Green delivers her second blockbuster novel of 2015, a story of one woman struggling to right the wrongs of her past, with even more complications in the present.
June, 1998:
At twenty seven, Catherine Coombs, also known as Cat, is struggling. She lives in London, works as a journalist, and parties hard. Her lunchtimes consist of several glasses of wine at the bar downstairs in the office, her evenings much the same, swigging the free booze and eating the free food at a different launch or party every night. When she discovers the identity of the father she never knew she had, it sends her into a spiral. She makes mistakes that cost her the budding friendship of the only women who have ever welcomed her. And nothing is ever the same after that.
June, 2014:
Cat has finally come to the end of herself. She no longer drinks. She wants to make amends to those she has hurt. Her quest takes her to Nantucket, to the gorgeous summer community where the women she once called family still live. Despite her sins, will they welcome her again? What Cat doesn't realize is that these women, her real father's daughters, have secrets of their own. As the past collides with the present, Cat must confront the darkest things in her own life and uncover the depths of someone's need for revenge.
About the Author
JANE GREEN is the author of seventeen bestselling novels. Originally from London, she now lives in Westport, Connecticut, with her husband, children, and a menagerie of animals.
This one has me being torn. I liked the story but it just felt like something was missing to get it over that 3 star hump. I didn't feel connected by the characters and the time different in the POVs made me feel again that something was missing. Or that I was missing something that was in front of me but it just wasn't clicking. So this one if you are a fan of Green's work I would say pick it up. If you are new to her I would try one of her other books.
Go Into This One Knowing
Alcoholism, 2 Time POVs,
"All opinions are 100% honest and my own."
Disclaimer: Thanks to Goodreads and Amazon for the book cover, about the book, and author information. If you can not see the link above you will need to turn off your spam blocker. Buying via these above links allows my site to get a % of the sale at no cost to you. This money gets used to buy items for giveaways.
https://www.facebook.com/CrossroadReview