#Join
#AuthorChat
Aug. 22 at 4pm ET with
#Author
@kkaralius #Hosted @CrossroadReview
If you gave her a wish bone, Kimberly would wish fervently for snow in Florida. Her love for 90s cartoons (or any cartoons, really) knows no bounds. She might be the only person you know who can be completely engrossed in watching silent films. Being in Florida certainly has one big perk: going to Disney World. Which she does. Frequently.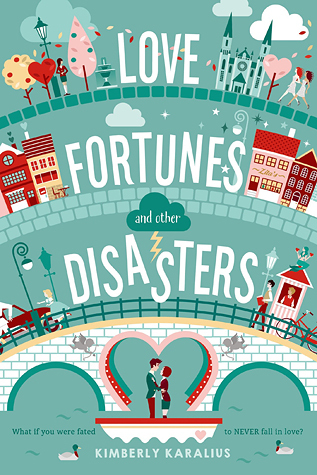 In the tradition of Alice Hoffman's Practical Magic, one girl chooses to change her fortune and her fate by falling in love.
Love is real in the town of Grimbaud, and Fallon Dupree has dreamed of attending high school there for years. After all, generations of Duprees have successfully followed the (100% accurate!) love fortunes from Zita's famous Love Charms Shop to happily marry their high school sweethearts. It's a tradition. So she is both stunned and devastated when her fortune states that she will NEVER find love.
Fortunately, Fallon isn't the only student with a terrible love fortune, and a rebellion is brewing. Fallon is determined to take control of her own fate—even if it means working with a notorious heartbreaker like Sebastian.
Will Fallon and Sebastian be able to overthrow Zita's tyranny and fall in love?
About the Author
Biography
An unusual love story that will delight readers. (
School Library Journal
)
Kim's work is full of magic, wonder, adventure and excitement. (MochiManiac, Swoon Reader)
The writing is delicious, and the plot clever and new. The story rings true, consistent and soundly set in the realm of magical-realism. Definitely swoonworthy! (Janelle, Swoon Reader)
A whimsical, dreamy breath of fresh air. (Kristianna, Swoon Reader)
"All opinions are 100% honest and my own."
Watch Aug. 22 at 4p ET
a Rafflecopter giveaway
Disclaimer: Thanks to Goodreads and Amazon for the book cover, about the book, and author information. If you can not see the link above you will need to turn off your spam blocker. Buying via these above links allows my site to get a % of the sale at no cost to you. This money gets used to buy items for giveaways.
https://www.facebook.com/CrossroadReview