Meet Dante Walker: He makes good girls...bad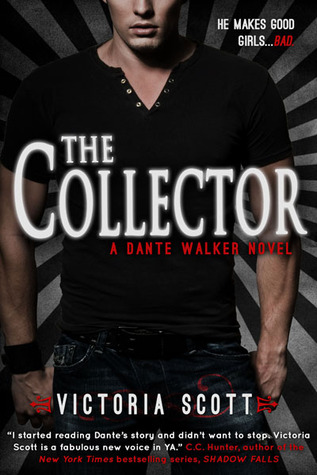 He makes good girls...bad.
Dante Walker is flippin' awesome, and he knows it. His good looks, killer charm, and stellar confidence have made him one of hell's best—a soul collector. His job is simple: weed through humanity and label those round rears with a big red good or bad stamp. Old Saint Nick gets the good guys, and he gets the fun ones. Bag-and-tag.
Sealing souls is nothing personal. Dante's an equal-opportunity collector and doesn't want it any other way. But he'll have to adjust, because Boss Man has given him a new assignment:
Collect Charlie Cooper's soul within ten days.
Dante doesn't know why Boss Man wants Charlie, nor does he care. This assignment means only one thing to him, and that's a permanent ticket out of hell. But after Dante meets the quirky Nerd Alert chick he's come to collect, he realizes this assignment will test his abilities as a collector…and uncover emotions deeply buried.
About the Author
Victoria Scott
is a teen fiction writer represented by literary agent, Sara Crowe. She's the author of the DANTE WALKER trilogy (Entangled Teen), and the FIRE & FLOOD series (Scholastic). Victoria has a master's degree in marketing, and lives in Dallas with her husband. She hearts cotton candy and loves chatting with readers on her site: VictoriaScottYA.com
"Big surprise. You didn't dress up."
"I came as Awesome Sauce," I say. "You probably wouldn't recognize it."
Oh, Dante Walker! You can seal my soul any day!
One of the things I love most about this series, is that Dante Walker is downright
hilarious! He tells it like it is and is wicked at it as he goes. He doesn't like to wear his heart on his sleeve, but that's just a cap, because get him alone and allow him to see inside you soul and he becomes putty.
Once all about the job and being the best, suddenly, he isn't about making his work quota to the big guy downstairs. Nope. The rough, thick, outside exterior melts when he finds himself struck dumb by a girl he never saw coming. A soul so beautiful, he'll do anything, and I mean ANYTHING to save her from the damned.
I'm serious. I fell instantly for Dante in the Collector and loved him all the way (and still do) till the final showdown in book three, The Warrior.
He's fierce. Loyal and a cuddle bug when no ones looking.
He can light up my soul and seal it anytime! "POW!"
Oh and did I mention we have mutual love for Chuck Taylors? Meant to be! :)
"My lips move against hers and the kiss says everything I'd hoped to hear.
Her faith reminds me that I can have a second chance. That I can leave behind who I was. And be what I am now. Bad to the bone."
Check out all the Man Candy Monday Pics here!
Disclaimer: Thanks to Goodreads and Amazon for the book cover, about the book, and author information. If you can not see the link above you will need to turn off your spam blocker. Buying via these above links allows my site to get a % of the sale at no cost to you. This money gets used to buy items for giveaways.