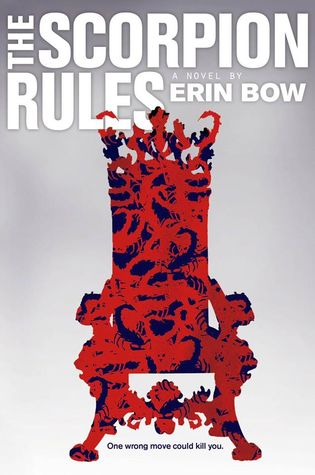 A world battered by climate shift and war turns to an ancient method of keeping peace: the exchange of hostages. The Children of Peace - sons and daughters of kings and presidents and generals - are raised together in small, isolated schools called Preceptures. There, they learn history and political theory, and are taught to gracefully accept what may well be their fate: to die if their countries declare war.
Greta Gustafsen Stuart, Duchess of Halifax and Crown Princess of the Pan-Polar Confederation, is the pride of the North American Prefecture. Learned and disciplined, Greta is proud of her role in keeping the global peace, even though, with her country controlling two-thirds of the world's most war-worthy resource — water — she has little chance of reaching adulthood alive.
Enter Elián Palnik, the Prefecture's newest hostage and biggest problem. Greta's world begins to tilt the moment she sees Elián dragged into the school in chains. The Prefecture's insidious surveillance, its small punishments and rewards, can make no dent in Elián, who is not interested in dignity and tradition, and doesn't even accept the right of the UN to keep hostages.
What will happen to Elián and Greta as their two nations inch closer to war?
About the Author
Erin Bow is a physicist turned poet turned children's novelist—and she's won major awards in all three roles. She's the author of the acclaimed Russian-flavored fantasy
Plain Kate
, which received two starred reviews and was a YALSA Best Book of the Year, and the terrifying YA ghost story
Sorrow's Knot
, which received five starred reviews and was a
Kirkus Reviews
Best Book of the Year.
So where to start with this one?
Well the best character was
Elián. I really did love the idea of their world and situation. Having a world controlled by AI was a great twist and not something that has been done to death. But the execution of that just fell flat for me. The story was engaging at the start. But, shortly after that the story just started to bore me.
Each chapter was 30% story and 70% info dump. If this would have been the other way this book would have been a much better! We didn't need all of the info dumping that we got. The history of this world could have been summed up in one chapter and done. We didnt need a ton of the information that we got.
Go Into This One Knowing
To much Info Dumping
"All opinions are 100% honest and my own."
a Rafflecopter giveaway
Disclaimer: Thanks to Goodreads and Amazon for the book cover, about the book, and author information. If you can not see the link above you will need to turn off your spam blocker. Buying via these above links allows my site to get a % of the sale at no cost to you. This money gets used to buy items for giveaways.
https://www.facebook.com/CrossroadReview