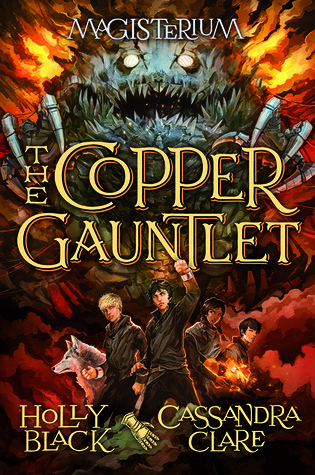 Callum Hunt's summer break isn't like other kids'. His closest companion is a Chaos-ridden wolf, Havoc. His father suspects him of being secretly evil. And, of course, most kids aren't heading back to the magical world of the Magisterium in the fall.
It's not easy for Call . . . and it gets even harder after he checks out his basement and discovers that his dad might be trying to destroy both him and Havoc.
Call escapes to the Magisterium -- but things only intensify there. The Alkahest -- a copper gauntlet capable of separating certain magicians from their magic -- has been stolen. And in their search to discover the culprit, Call and his friends Aaron and Tamara awaken the attention of some very dangerous foes -- and get closer to an even more dangerous truth.
As the mysteries of the Magisterium deepen and widen, bestselling authors Holly Black and Cassandra Clare take readers on an extraordinary journey through one boy's conflict -- and a whole world's fate.
About the Author
Holly Black is the #1 NEW YORK TIMES bestselling author of The Spiderwick Chronicles (with Tony DiTerlizzi) and the acclaimed novel DOLL BONES. Her other books include The Good Neighbors graphic novels, and the novels TITHE, VALIANT, and IRONSIDE. She currently lives in the realm of Western Massachusetts.
Cassandra Clare is the author of CITY OF BONES, the first book in The Mortal Instruments trilogy and a NEW YORK TIMES bestseller. Her latest series, The Infernal Devices, has spawned three #1 bestsellers. Born overseas, Cassandra spent her early years traveling around the world with her family and several trunks of books.
Let the awesome continue in this wildly entertaining and magical ride!
The fun continues as Cal and his friends return for another year of school--this year pulling out all the stops to find the copper gauntlet; which is a magical tool that of course, could be used for evil if the wrong hands get their hands on it, but Cal will stop at nothing to have it found and out of temptation to the wrong people, though Cal has suspicions that their is more to his life then his Dad might be telling him. Fearing for the worst, but preparing to fight, Cal and his friends embark on another adventure filled with intrigue, mystery and the unknown.
Yes, you want this book. YES you will love it. Yes, I loved it! I will be honest though and say that I loved Iron Trial a bit more, because it was more a page turner for me, but I do believe that Copper Gauntlet had the action and die--hard fan would want to see. I'm excited to see what book three will bring and if my suspicions are true or not... What? You want me to tell you those suspicions...haha, read the book and we can totally share our thoughts! I don't do spoilers so thats the best you're going to get out of me.
Hands down, another awesome read from Holly Black and Cassandra Clare
Go Into This One Knowing
"All opinions are 100% honest and my own."
Disclaimer: Thanks to Goodreads and Amazon for the book cover, about the book, and author information. If you can not see the link above you will need to turn off your spam blocker. Buying via these above links allows my site to get a % of the sale at no cost to you. This money gets used to buy items for giveaways.
https://www.facebook.com/CrossroadReview