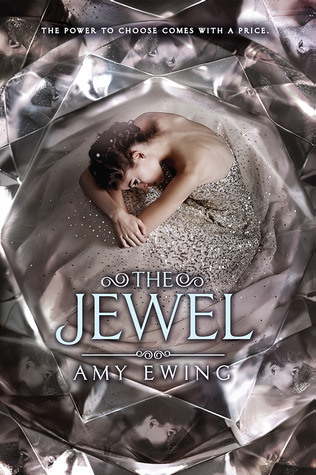 The Jewel means wealth. The Jewel means beauty. The Jewel means royalty. But for girls like Violet, the Jewel means servitude. Not just any kind of servitude. Violet, born and raised in the Marsh, has been trained as a surrogate for the royalty—because in the Jewel the only thing more important than opulence is offspring.
Purchased at the surrogacy auction by the Duchess of the Lake and greeted with a slap to the face, Violet (now known only as #197) quickly learns of the brutal truths that lie beneath the Jewel's glittering facade: the cruelty, backstabbing, and hidden violence that have become the royal way of life.
Violet must accept the ugly realities of her existence... and try to stay alive. But then a forbidden romance erupts between Violet and a handsome gentleman hired as a companion to the Duchess's petulant niece. Though his presence makes life in the Jewel a bit brighter, the consequences of their illicit relationship will cost them both more than they bargained for.
About the Author
Amy Ewing earned her MFA in Writing for Children at the New School and received her BFA at New York University.
The Jewel
started off as a thesis project and became her debut novel.
The White Rose
is the second book in the trilogy. Amy lives in New York City.
OMG so I read this as an ARC before it came out and I just fell in love. This now the second time around I am still way beyond addicted! This is a need to read for anyone who loves dystopian. I really loved that the powers that the girls have were not center stage. This book is for the older teen crowd since it deals with higher situations. I really loved all the characters in this book and really want a prequel. I think it would be so interesting to see where this world started out as. Just so you know the cliffhanger in this one is OUT OF THIS WORLD! I so didnt see it coming.
Loved, loved, LOVED. What can I say, that hasn't already been said?
I read this book when it first released last September and it gave me chills. Having re-read it this month to prepare for the release of White Rose, I can honestly say, I loved it more this time around, then last! It just keeps getting better. It's like a fine piece of chocolate. It never gets stale. Romance? Yes, please! Intrigue? Mystery? A NEED to keep reading even though eyes-are -growing-tired-because-it's-two-am? ALL of the the above! I couldn't put it down and even when I did, I was so filled with anguish that I didn't have book two! This book, is all the feels and then some. Run out and buy if you haven't already. NEED ALL THE BOOKS!
I can't say how much I loved this book! I think I read this in less than a day. The whole time I felt really bad for Violet. The situation she was in was not a good one. There was some romance but it was not the main point of the story. I liked Violet most of the time but sometimes she was a little too immature. The world building and details were beautiful. This is a must read for EVERYONE!!
Go Into This One Knowing
Romance, Dystopian with a hint of magic
"All opinions are 100% honest and my own."
Disclaimer: Thanks to Goodreads and Amazon for the book cover, about the book, and author information. If you can not see the link above you will need to turn off your spam blocker. Buying via these above links allows my site to get a % of the sale at no cost to you. This money gets used to buy items for giveaways.
https://www.facebook.com/CrossroadReview